Editor's Note:  A brief video of protestors chanting Bush is a War Criminal clash with police is posted on the WAMMToday Facebook page.  Click on the

direct link

 

here

.
Dallas police remind expected Bush Library dedication protesters of restrictions
C
indy Sheehan Protests At Bush Library Dedication
04/25/13 10:17 AM ET EDT
  HuffingtonPost.com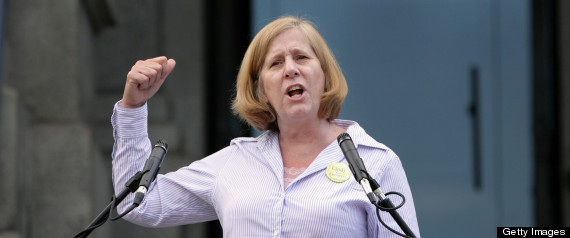 She says she's protesting both Bush and his successor in the oval office.
Sheehan famously camped out near Bush's Crawford, Texas, ranch to protest the war in Iraq. Eight years after her son died in Iraq, Sheehan says she still has a reason to protest.
Sheehan feels that President Barack Obama has maintained much of Bush's national security strategy.
She says: "I wake up every day feeling like today's the day to make a difference. I never question the correctness of what I'm doing or the need for it."
Subscribe or "Follow" us on WAMMToday.org. For the TC EVENTS calendar and the ACTIONS AND ACTION ALERTS click on the tab at the top of the page and click on the item of interest to view. WAMMToday is also on FACEBOOK! Check the WAMMToday page for posts from this blog and more! "Like" our page today.  Find us on TWITTER at WAMMToday (@touchpeace).
Protesters Gather Outside Bush Library Ceremony
DALLAS April 25, 2013 (AP)
About 50 protesters have gathered amid a heavy police presence as thousands make their way to the dedication of the George W. Bush Presidential Center.
The protests were restricted Thursday morning to a zone cordoned off by barricades and separated from the center by a highway.
About 30 protesters are wearing black while holding signs exclaiming, "Crimes against humanity" and "Does America have a conscience?" Other signs list the names of soldiers and others who died in wars launched by the Bush administration.
Coleen Rowley of Apple Valley, Minn., is wearing an orange jumpsuit and yelling "Close Guantanamo," a reference to the U.S. detention facility for suspected insurgents. She directed her comments to some of the 10,000 people heading to the campus of Southern Methodist University for the dedication.
Coleen Rowley is a member of the WAMM Board of Directors.