Resist! Actions, Ideas, Stories of the Resistance. Click the

title

to read the full article. 
Resistance to the Trump regime is manifest, taking many different forms, offering many opinions and ideas. Some of the many, starting from the inauguration on, will be listed here.
---
Media for the people!  Bringing you the best of the alternative media and original articles and videos.  Click here to help by learning more about Rise Up Times, spreading the word, and making a donation. 
---
 No Peace! No Justice! Please share this post.
+++
 "We will defeat the xenophobic policy of Trump against Mexican migrants," PRD Secretary-General Beatriz Mojica said.
Mexico's leftist Party of the Democratic Revolution protested U.S. President
Donald Trump

's border wall plans in Mexico City Monday, symbolically breaking down a "hate wall" constructed with cardboard boxes.

RELATED:
Mexico Could Abandon Doing US 'Dirty Work' over Trump Policies
PRD members pushed the boxes over actors dressed as Trump and hooded members of the Ku Klux Klan. The symbolic protest, held in front of the city's U.S. embassy, kicked off the party's nationwide campaign to assist Mexican migrants and deportees.
"We do not want our country's president bowing his head," PRD Secretary-General Beatriz Mojica said at the protest, Informador reported.
"We want a government that stands with confidence at the negotiations that have to be done with the United States," she added.
Telesur English  February 22, 2017
By Joanna Walters for The Guardian – The new president has driven some to make a statement with their bank accounts – despite fears such a protest could send demonstrators to jail. Andrew Newman always pays his taxes, even if he hates what the government is doing with them. But not this year. For him, Donald Trumpis the dealbreaker. He'll pay his city and state taxes but will refuse to pay federal income tax as a cry of civil disobedience against the president and his new administration. Newman is not alone. A nascent movement has been detected to revive the popularity of tax resistance – last seen en masse in America during the Vietnam war but which has been, sporadically, a tradition in the US and beyond going back many centuries. "My tax money will be going towards putting up a wall on the Mexican border instead of helping sick people. -more-
Popular Resistance  February 22, 2017
By Kira Lerner for Think Progress – As Attorney General Jeff Session's shifts the Department of Justice's focusfrom protecting voting rights to investigating claims of nonexistent fraud, the rights of an increasing number of minority voters will likely go unprotected. But in that vacuum, a growing number of organizations and advocacy groups have said they will step up to protect voters. On Monday, the Lawyers' Committee for Civil Rights Under Law filed the first major federal voting rights lawsuit of the year, alleging that Jones County, North Carolina's voting system discriminates against African-American residents. Jones County is roughly one-third black, but the black population has not elected a candidate-of-choice to the Board of Commissions in over two decades. According to the lawsuit, this is due to the county's at-large voting system — a Jim Crow-era tactic that allows localities with white majorities to dilute black voting power. -more-
Popular Resistance  February 22, 2017
By Staff of Tele Sur – "We call for grassroots movements to resist, resist and rebel against the persecution, the arrests and deportations." The Zapatista Army of National Liberation, EZLN, called on all of its members and supporters to rally behind the immigrants currently facing arrest, deportation and human rights abuses at the hands of U.S. President Donald Trump's administration. "We call for grassroots movements to resist, resist and rebel against the persecution, the arrests and deportations … Because every human being has the right to live in freedom and dignity in the place he finds the best for himself, and has the right to fight to stay there," said the communique, calling resistance an act of "duty." Signed by Subcomandante Moises and Subcomandante Galeano, the document reinforced the idea that migrants and refugees are "not alone" and that the Zapatistas, "even with our limited possibilities," fully support their struggle. -more-
Popular Resistance  February 22, 2017
So reality has inexorably, inescapably penetrated my life.  It didn't take long. Yes,
Donald Trump

is actually the president of the United States. In that guise, in just his first weeks in office, he's already declared war on language, on loving, on people who are different from him — on the kind of world, in short, that I want to live in. He's promised to erect high walls, keep some people in and others out and lock up those he despises, while threatening to torture and abuse with impunity.
Frieda Berrigan  Tom Dispatch  February 16, 2017
(ANTIMEDIA)  —  On Friday morning, protesters blocked newly-confirmed Education Secretary Betsy DeVos from entering a school in Washington, D.C.
The day before that, Representative 's words were drowned out by taunts from a raucous crowd in Utah.
On Tuesday, over 100 protesters showed up at the congressional office of Arizona Representative
Martha McSally

.
And last weekend, California Representative
Tom McClintock

's town hall speech was met with such hostility that he had to be escorted from the premises by police.
There may have been others. There certainly will be more in the days to come. We know that for certain because last week the Washington Post told us so.
"What's organizing people is that they're fearing for the country they grew up in," Neera Tanden,
Hillary Clinton

advisor and president of the Center for American Progress, told the Post. "People are definitely seeing the purpose of working through the political process to oppose him."
The him, of course, is
Donald Trump

. There could be no other him in a Democrat's mind. But the "process" being referred to by Tanden is, as we speak, going through a metamorphosis — one the Clinton aide seems not to notice.
The Post's article on Sunday opened with the following:
"A super PAC formed to reelect Barack Obama in 2012 is driving activists to congressional town halls."
It doesn't seem like much. Innocuous, even. But upon reflection, it's actually a game changer.
 Written by James Holbrooks  AntiMedia  February 14, 2017
While images of Brock's bloody face, and clips of other Yiannopoulos fans being assaulted with flag poles, bike locks, and pepper spray, did ensure that the radical minority of aggressive protesters dominated the news coverage, accounts of his own behavior prior to the attack suggest that Brock might have come to campus looking for trouble.
Robert Mackay  The Intercept  February 5, 2017
TRP Strategy #1: Disconnect from Trump
TRP Strategy #2: Seek the Truth
TRP Strategy #3: Fight Back
"It is not in numbers, but in unity, that our great strength lies…"
Contact your representatives, get involved locally, and learn about what's at stake.
A
fter bracing for the worst, it's finally here. Every day since he was inaugurated,
Donald Trump
has taken steps to implement more of his hate-filled, fear-mongering agenda. Just this week, he began moving forward with a ban on refugees, a wall along the Mexico-US border, a suspension of visas for anyone from particular Middle Eastern and African countries, and cuts to federal funding for sanctuary cities.
When a mass movement is united against the power elites it is unstoppable.
By Margaret Flowers and Kevin Zeese, www.popularresistance.org  Rise Up Times
January 28th, 2017  
In the midst of a terrible national illness, we organize and march for the known and solid cures.
Rise Up Times  Solartopia  January 22, 2017
The weekend's Women's Marches were historic events that showed the world the depth and passion of the anti-Trump movement. But we have to keep it going…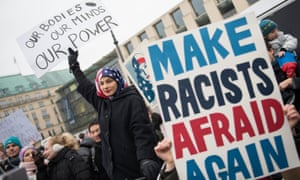 I know it annoyed them because I walked with them. In the absolute silence, I could hear they were angry and afraid. They looked, collectively, like a George Grosz painting of the Weimar elite come to life.
And then, to annoy them some more, one out of every 100 people in America marched to reject Trump's project in its entirety. In the US, nearly 3.5 million people marched, the majority of them women, a huge proportion of them wearing pink, woolly "pussy hats" (There were marches against Trump in 20 countries around the world).
Paul Mason  The Guardian  January 23, 2017
Last modified on Wednesday 25 January 2017 09.17 EST
@paulmasonnews
By Bruce Dixon for Black 2Agenda Report. If we aim to build a movement that cannot be co-opted by Democrats again and again, our hashtags, memes and messages have to educate our people, not just eviscerate Trump. Sure denouncing and hitting the streets to make fun of Big Cheeto is just that. It's fun, and maybe theraputic too. But as good as they make us feel, storms of ridicule failed to drive Ronald Reagan or George W. Bush from office, and our scorn of Reagan didn't prevent two presidents Bush or Clinton either. Our mocking of "W" didn't hold Obama accountable either. Big protests, especially the permitted kind that take place on weekends, marching through canyons of empty office buildings, sometime with hilarious puppets, some of us being chased by police are routine, almost traditional pageantry by now. Mass protests don't have magical powers.
By Bruce Dixon, www.blackagendareport.com  Popular Resistance
January 22, 2017

Donald Trump

waits to assume power before his inauguration Friday. (Patrick Semansky / AP)
This is a transcript of a talk Chris Hedges gave at the Inaugurate the Resistance rally in Washington, D.C., on Saturday, January 21, 2017
The ruling elites, terrified by the mobilization of the left in the 1960s, or by what [political scientist] Samuel P. Huntington called America's "excess of democracy," built counter-institutions to delegitimize and marginalize critics of corporate capitalism and imperialism. They bought the allegiances of the two main political parties. They imposed … obedience to the neoliberal ideology within academia and the press. This campaign, laid out by Lewis Powell in his 1971 memorandum titled "Attack on American Free Enterprise System," was the blueprint for the creeping corporate coup d'état that 45 years later is complete.
By Chris Hedges  Truthdig  January 22, 2017