Articles about the Middle East. Click the

title

 of each article to read the full article.
---
Media for the people!  Bringing you the best of the alternative media and original articles and videos.  Click here to help by learning more about Rise Up Times, spreading the word, and making a donation. 
---
 No Peace! No Justice! Please share this post.
The contents of Rise Up Times do not necessarily reflect the views of the editor.
+++
Then, at precisely 7 a.m. CDT, on July 27, 2004, the homes of Shukri Abu Baker, Ghassan Elashi, Mufid Abdulqader, Abdulrahman Odeh, and Mohammad Elmezain were raided by local and federal officers. All five men, who came to be known as the HLF- 5, were taken into custody. Four years and two trials later, all five were sent to federal prison, serving sentences ranging from 15 to 65 years.
The Holy Land Foundation was the largest Muslim charity in America. It provided aid to refugees, orphans, victims of human and natural disasters, the poor and the needy throughout the world, regardless of faith or political affiliation. According to Mohammad Abumoharam, a relief worker in Gaza, "HLF has been able to significantly alleviate the suffering of thousands in Palestine."
Accusing charity organizations that support Palestinians of "funding terrorism" requires a great deal of creativity but also a certain amount of collaboration between the legislative, executive, and judicial branches of government. John Boyd, one of the attorneys who represented the HLF in the cases that were brought, told me he felt that "all the rules that have been put in place to protect innocent people had been suspended in this case," and that the judges who were involved, "abdicated their duties to uphold the law and defend innocent people."
Mint Press News  October 9, 2018
Attorney general will examine evidence and decide whether to indict after police investigation of the prime minister in two cases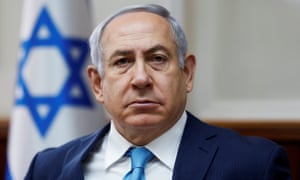 Benjamin Netanyahu has denied wrongdoing. Photograph: Ronen Zvulun/Reuters
Israeli police have recommended that Benjamin Netanyahu be indicted on charges of bribery and breach of trust, in an embarrassing blow that has thrown the prime minister's political future in doubt.
Oliver Holmes in Jerusalem  The Guardian  February 13, 2018
The historic measure calls for probing investments and contracts with companies whose practices may violate human rights.
Mint Press News  January 11, 2018
In late 2016, investigative journalist Abby Martin had the opportunity to interview 16-year-old Ahed Tamimi. The two discussed the hardships of living under Israeli occupation as well as Tamimi's future aspirations. It quickly becomes apparent why her oppressors are attempting to silence the teen and her family.
Mint Press News  January 11, 2018
The party of Nelson Mandela, which voted to downgrade South Africa's embassy in Israel last month, cautioned the Israeli government for blacklisting supporters of the BDS movement.
Mint Press News  January 11, 2018
Israel's Strategic Affairs Ministry had for months refused to divulge which organizations are on the list
Israel published on Sunday the full list of organizations whose activists will be barred from entering the country. The so-called BDS blacklist was released by the Strategic Affairs Ministry.
The full list
European organizations:
■ France-Palestine Solidarity Association
■ BDS France
■ BDS Italy
■ The European Coordination of Committees and Associations for Palestine
■ Friends of Al-Aqsa
■ Ireland Palestine Solidarity Campaign
■ The Palestine Committee of Norway
■ Palestine Solidarity Association of Sweden
■ Palestine Solidarity Campaign
■ War on Want
■ BDS Kampagne
American organizations:
■ American Friends Service Committee
■ American Muslims for Palestine
■ Code Pink
■ Jewish Voice for Peace
■ National Students for Justice in Palestine
■ US Campaign for Palestinian Rights
Other groups:
■ BDS Chile
■ BDS South Africa
■ BDS National Committee
Members of the 20 organizations on the list will not be allowed to enter the country due to their support for the boycott, divestment and sanctions movement against Israel. The list primarily includes European and American organizations as well as groups from Latin America, a group from South Africa and an international umbrella organization.
By Noa Landau Haaratz  January 7, 2018
Why is Haaretz, a supposedly liberal outlet, publishing a one-sided, decontextualized smear piece on the Tamimi family by a known propagandist?
Ahed Tahmimi. A Video of The Slap
Palestinian official Hanan Ashrawi takes on Mike Pence
"One nation openly attacking another on the latter's territory would create a crisis anywhere else in the world. Not in Gaza though." Perhaps the bigger questions are was this necessary and why now?
When I first went to Palestine as a young reporter in the 1960s, I stayed on a kibbutz. The people I met were hard-working, spirited and called themselves socialists. I liked them. One evening at dinner, I asked about the silhouettes of people in the far distance, beyond our perimeter.
"Arabs", they said, "nomads". The words were almost spat out. Israel, they said, meaning Palestine, had been mostly wasteland and one of the great feats of the Zionist enterprise was to turn the desert green.
They gave as an example their crop of Jaffa oranges, which was exported to the rest of the world. What a triumph against the odds of nature and humanity's neglect.
It was the first lie. Most of the orange groves and vineyards belonged to Palestinians who had been tilling the soil and exporting oranges and grapes to Europe since the eighteenth century. The former Palestinian town of Jaffa was known by its previous inhabitants as "the place of sad oranges".
On the kibbutz, the word "Palestinian" was never used. Why, I asked. The answer was a troubled silence.
All over the colonised world, the true sovereignty of indigenous people is feared by those who can never quite cover the fact, and the crime, that they live on stolen land.
Denying people's humanity is the next step – as the Jewish people know only too well. Defiling people's dignity and culture and pride follows as logically as violence.
In Ramallah, following an invasion of the West Bank by the late Ariel Sharon in 2002, I walked through streets of crushed cars and demolished houses, to the Palestinian Cultural Centre. Until that morning, Israeli soldiers had camped there. I was met by the centre's director, the novelist, Liana Badr, whose original manuscripts lay scattered and torn across the floor. The hard-drive containing her fiction, and a library of plays and poetry had been taken by Israeli soldiers. Almost everything was smashed, and defiled.
By John Pilger  JohnPilger.com  July 10, 2017
On the anniversary of Operation Protective Edge – the deadliest Israeli intervention in Gaza to date – life in the Strip is getting worse, not better.
Water and electricity crises have taken their toll 
By Ramzy Baroud for Politics for the People – Gaza is the world's largest open air prison. The West Bank is a prison, too, segmented into various wards, known as areas A, B and C. In fact, all Palestinians are subjected to varied degrees of military restrictions. At some level, they are all prisoners. East Jerusalem is cut off from the West Bank, and those in the West Bank are separated from one another. Palestinians in Israel are treated slightly better than their brethren in the Occupied Territories, but subsist in degrading conditions compared to the first-class status given to Israeli Jews, as per the virtue of their ethnicity alone. Palestinians 'lucky' enough to escape the handcuffs and shackles are still trapped in different ways. Palestinian refugees in Lebanon's Ein el-Hilweh, like millions of Palestinian refugees in 'shattat' (Diaspora), are prisoners in refugee camps, carrying precarious, meaningless identification, cannot travel and are denied access to work. They languish in refugee camps, waiting for life to move forward, however slightly – as their fathers and grandfathers have done before them for nearly seventy years. -more-
 Popular Resistance  May 5, 2017
Rima Khalaf, the head of the United Nations Economic and Social Commission for Western Asia (ESCWA). resigned today after she was asked to withdraw a report her agency published earlier this week that stated Israel is an "apartheid regime." "The secretary-general demanded yesterday that I withdraw the report, and I refused,"Khalaf told reporters at a press conference in Beirut today, according to the Middle East Eye. "It was expected that Israel and its allies would put enormous pressure on the United Nations secretary general to renounce the report," she also said, according to Reuters. Then Khalaf stated that the United Nations "had scrubbed the report from its website." -more-
By Allison Deger of Mondoweiss   Popular Resistance  March 19, 2017
Since 2007, Palestinians in Gaza have lived with limited electricity because of infrastructure damage caused by Israeli attacks, as well as a blockade that hinders repairs. This crisis has jeopardized critical services, such as hospitals, schools and water sanitation systems, affecting the health and well-being of Gaza residents.
Mike Merryman-Lotze   Truthout  March 10, 2017
Long before Israel erected separate communities, the United States perfected the art of the artificial divide.
Israel as seen from over the wall running past Aida refugee camp [Thomas Imo/Photothek via Getty Images]
Qumsiyeh: A Human Rights Web about Palestine, written by a Palestinian scholar and activist who lives in Palestine.
By Staff of WashingtonsBlog – The U.S. Carried Out Regime Change In Syria In 1949 … and Tried Again In 1957, 1986, 1991 and 2011-Today. The CIA backed a right-wing coup in Syria in 1949. Douglas Little, Professor, Department of Clark University History professor Douglas Little notes: Recently declassified records… confirm that beginning on November 30, 1948, [CIA operative Stephen] Meade met secretly with Colonel Zaim at least six times to discuss the "possibility [of an] army supported dictatorship." ["Cold War and Covert Action: The United States and Syria, 1945-1958," Middle East Journal, Winter 1990, p. 55] -more-
Popular Resistance  March 1, 2017
 The White Helmets film is a tactic in the ongoing campaign of distortion and deception against Syria.
Last year this time, Secretary of State John Kerry was trying to put together a huge peace deal between Israel and the Arab world, according to Aron Heller and Matthew Lee of the Associated Press.

Photo by watch smart | CC BY 2.0
Introduction: The recapture of Aleppo by the Syrian Arab Army and its allies marks a turning point not only in the conflict in Syria, but also in the dynamic of international conflict. For the first time since the dissolution of the Soviet Union, the rolling imperial engine of regime change via American-led military intervention has been stopped in its tracks. To be sure, it's certainly not out of service, even in Syria, and it will seek and find new paths for devastating disobedient countries, but its assumed endgame for subjugating Syria has been rudely interrupted. And in our historical context, Syria interrupted is imperialism interrupted.
Excerpt: The Russians and the rest of the world also now know how destructive the American project of regime change via jihadi proxies is, having seen its results in Afghanistan, Iraq, Libya, and Syria. Only deluded and arrogant American exceptionalists—conservative militarists and liberal humanitarian interventionists alike—haven't learned that lesson.
 B
Al Jazeera
Excerpt: "Israel has approved a plan to construct 2,500 new settlement homes in the occupied West Bank, two days after the country accepted building permits for more than 500 settler homes in occupied East Jerusalem."
READ MORE
Reader Supported News  January 25, 2017
By Tom Suarez for Mondoweiss – Good evening, thank you so much for taking time out of what I know are your busy schedules to be here now. My thanks to Jenny Tonge for making this meeting possible; and I would like to thank three people without whom the book would not exist: Karl Sabbagh, my publisher; Ghada Karmi, who inspired the book; and my partner, Nancy Elan, who was my constant alter-ego during my research and without whom I surely would have given up. My work is based principally on declassified source documents in the National Archives in Kew. When I have had to rely on published works, I have trusted established historians who cite first-hand sources. -more-
Popular Resistance  January 5, 2016
By Bruce Gagnon  Organizing Notes  December 13, 2016
RT  October 25, 2016
Cockburn writes: "Are there alternative scenarios, if not solutions? In Syria there usually are because there are so many players inside and outside the country, all claiming hypocritically to be acting in the interests of the Syrian people but invariably onsulting their own interests first, second and third."
READ MORE
Patrick Cockburn  The Independent  Reader Supported News  November 3, 2016
By Glenn Greenwald for The Intercept – IN 2010, ISRAEL'S then-defense minister, Ehud Barak, explicitly warned that Israel would become a permanent "apartheid" state if it failed to reach a peace agreement with Palestinians that creates their own sovereign nation and vests them with full political rights. "As long as in this territory west of the Jordan River there is only one political entity called Israel, it is going to be either non-Jewish, or non-democratic," Barak said. "If this bloc of millions of ­Palestinians cannot vote, that will be an apartheid state." -more-
Popular Resistance  October 11, 2016
Two journalists from Al Jazeera who were on board Zaytouna-Oliva have been released and have safely reached London and Moscow. The other 11 women of the Women's Boat to Gaza are still in detention, but we anticipate that they will be 'deported' soon, as they were moved yesterday from Givon Prison to a detention facility at Ben-Gurion airport.
Wendy Goldsmith, a member of the land team working to secure the release of the women stated that, "the deportation is happening much quicker than in previous flotillas. While we had a great legal team assisting the women, we suspect that the reason for the quick release was because of all the negative media attention Israel has been receiving for its illegal interception, including the demand of rock band Pink Floyd." According to early reports from the women released, the Zaytouna-Oliva was surrounded by two warships along with four to five smaller naval boats. The Israeli Occupation Forces (IOF) demanded that the Zaytouna-Oliva stop its course towards Gaza. When the warning was refused, at least seven IOF members, both male and female, boarded our yacht and commandeered it in international waters.
In the course of their capture, the women insisted that Israel's attack was illegal and that they were being taken against their will to Israel. The Women's Boat to Gaza campaign asserts that while the captivity of the women on board Zaytouna-Oliva may soon be over, the captivity of 1.9 million Palestinian people in Gaza remains. Whilst the term "peaceful" has been used in some media to describe the attack and capture of our boat, this is inaccurate. Peace is more than merely the absence of physical violence. Oppression, occupation, denial of human rights and taking a boat of unarmed, non-violent women against their will are not peaceful activities. Indeed, as Zaytouna-Oliva approached Palestine, the IOF launched multiple air raids across the Gaza Strip.
The Women's Boat to Gaza and the Freedom Flotilla Coalition will continue to sail until Palestine is free.
Investigations into claims of anti-Semitism among Palestine solidarity groups often find the claims to be unfounded, says Dima Khalidi of Palestine Legal
2016-09-26 |
"At one point we're going to be asked to support in greater detail this Russo-U.S. plan, so to do that we will need to have all the information," Continue reading →
MintPress News  September 16, 2016
A video shows a field commander of a Syrian rebel group pleading for military aid from Israel.  Continue reading →
MintPress News.  September 16, 2016
May 2017 will mark fifty years of Israeli occupation of Gaza and the West Bank, characterized by institutionalized inequality and injustice toward Palestinians.
At the bidding of the government, the Israeli Defense Force (IDF) routinely and violently confronts Palestinians, but also Israeli and international dissidents who dare challenge the continued expansion and entrenchment of the illegal settlements in the West Bank and the blockade of the Gaza strip. Protesters run the risk of getting cursed, spat on, detained, beaten up, stoned, stabbed, shot, kidnapped, imprisoned, tortured or any combination thereof. Moreover, in an unfortunate yet predictable move, the Israeli government has recently declared war on the nonviolent boycott divestment and sanctions (BDS) movement.
Like clockwork, every few years a cycle of violence disproportionately bathes Palestinian society in blood and tears and serves to further fortify the occupation (see "Israeli Occupation for Dummies"). According to renowned scholar Ilan Pappe, Israeli society needs a regular dose of war not only as a means to justify its excessive military budget and lucrative arms industry, but as a tool to reaffirm itself as a cohesive settler-colonialist entity faced with an existential threat. Continue reading →
MintPress News.  September 16, 2016
EXPOSED: NATO's Sleeper Cells Within US Anti-War Movement
The main criticism of US policy in Syria has long been that President Barack Obama should have used US military force or more aggressive arms aid to strengthen the armed opposition to Assad.
By Gareth Porter, Middle East Eye  Posted on World Beyond War  August 30, 2016
Sumaya Awad, Socialist Worker: People might be shocked to find out that Ramallah, one of the largest cities in the West Bank, actually receives more annual rainfall than London. So why during the month of June did Palestinians face some of the harshest water shortages in decades?
Read the Article   Truthout  August 10, 2016
+++
+++
Reports say 56 civilians killed by air campaign
+++
By Prof Michel Chossudovsky  Global Research, July 21, 2016
+++
Life for many in Damascus, Syria is beginning to regain a sense of normalcy. Once besieged by foreign fighters, the ancient city and it's residents struggle to rebuild their lives, land and livelihood, rejoicing in the simple mundanity of day-to-day life. Continue reading →
The post Damascus: Life Returns 5 Years After NATO Destabilization Efforts appeared first on MintPress News. July 20, 2016
+++
By Staff of Palestinian Information Center/PNN – Israeli land confiscation policy has notably escalated in occupied Jerusalem and West Bank by 439% since the beginning of 2016, in comparison to last year, a Palestinian report revealed on Tuesday. Applied Research Institute – Jerusalem (ARIJ) revealed that Israeli authorities confiscated, since the beginning of the year, 7,773 acres of Palestinian-owned lands, recording an increase by 439% in comparison with last year, where 1,442 acres were seized. -more-
Popular Resistance  July 2, 2016
+++
UK High Court rules in favor of local councils taking action in solidarity with the Palestinian people. French local council near Paris votes to boycott illegal Israeli settlement produce The High Court in the UK has dealt a blow to … Continue reading 
July 1, 2016 by BNC
+++
+++
+++
"Targeting journalists in this way is a war crime," said CAGE Outreach Director Moazzem Begg.
Telesur  June 30, 2016
+++
Israel agreed to establish a $20 million fund for activists killed in a 2010 attack on a Turkish aid ship bound for Palestine, but the deal has far more to do with oil than human rights.
Mint Press News  June 28, 2016
+++
+++
The audacious undermining of Obama by the Saudis in their backing of a Washington revolt against the president's policy strongly suggests that the war in Syria is going to escalate. Continue reading →
MintPress News  June 28, 2016
Over 300 people protested outside NY Gov. Cuomo's office, demanding he rescind "unconstitutional" executive order
By Ben Norton  BDSMovement.net  June 19, 2016
+++
+++
CHRIS HEDGES: WHERE IS OUR JEREMY CORBYN?
+++
By Sonali Kolhatkar — Why should Facebook users come down harder on the Syrian leader than on the United States government when it comes to horrific actions and war crimes in that part of the world?

truthdig.com  May 9, 2016
+++
"Zionism is a form of racism and racial discrimination," reads UN General Assembly Resolution 3379. The measure was adopted 40 years ago, on Nov. 10, 1975, and the majority of the international community backed it. 72 countries voted for the resolution, with just 35 opposed (and 32 abstentions).
Although little-known in the US today (it is remarkable how effectively the US and its allies have rewritten history in their favor), UN 3379. "Elimination of all forms of racial discrimination," made an indelible imprint on history.
+++
+++
+++
+++
+++
+++
+++
+++
+++
Journalist and author Max Blumenthal talks about the growing BDS movement and the efforts to muzzle it.
April 11, 2016   The Real News Network
+++
+++
+++
Together with Al-Jazeera, Google developed a tool to track defections in Syria, hoping to encourage more former Assad allies to join the civil war.
+++
+++
ACTION ALERT   April 1, 2016
Contact: dsprusan@wrmea.org
March 2016 in Numbers
11 members of Congress—including Sen. Patrick Leahy (D-VT) and 10 representatives—sent a letter to Secretary of State John Kerry asking his department to investigate claims that Israeli and Egyptian security forces have committed "gross violations of human rights." Israel's unprecedented inclusion on such a letter elicited an angry backlash from Prime Minister Binyamin Netanyahu, who claimed his country's security forces protect the innocent from "bloodthirsty terrorists who come to murder them."
4 presidential candidates—Democrat Hillary Clinton and Republicans Donald Trump, Ted Cruz and John Kasich—addressed the annual AIPAC conference in mid-March. All four candidates used their remarks to pander to the powerful pro-Israel lobbying group. Sen. Bernie Sanders declined to address the conference.
1 Israeli soldier was caught on camera fatally shooting an already wounded and immobilized Palestinian at point-blank range in the occupied city of Hebron on March 24. The execution took place after the Palestinian man allegedly attacked an IDF soldier with a knife. The damning video shows the other IDF soldiers unfazed by the execution, suggesting that such incidents are not uncommon in the West Bank.
48 percent of Israeli Jews favor transferring or expelling the country's Arab citizens, according to a Pew Research Center report released on March 8. Jews constitute about 80 percent of Israel's population. The poll also found that 45 percent of Israeli Jews do not believe that a Palestinian state can exist alongside Israel.
91 percent of Palestinians believe that Israel does not abide by the Oslo agreement,according to a poll published by the Palestinian Center for Policy and Survey Research in late March. The poll also found that 63 percent of West Bank Palestinians and 75 percent of Gazans believe that another armed intifada would help achieve national rights in ways negotiations could not.
$1 million was awarded to Palestinian teacher Hanan al-Hroub upon winning the 2016 Varkey Foundation Global Teacher Prize. Al-Hroub, who grew up in a Bethlehem refugee camp, was recognized for developing a play-centered teaching technique that has successfully led to a reduction in violent behavior in schools.
6 states—most recently Georgia on March 24—have passed legislation targeting the Boycott, Divestment and Sanctions movement. Georgia's law forbids the government from contracting with individuals or companies that are engaged in boycotts of Israel. Georgia's law even shields illegal settlements from the BDS movement.
1 year of the Saudi-led military intervention in Yemen was marked in March. The conflict between Yemen's Houthi movement and Saudi Arabia has devastated Yemen. According to the U.N., more than 3,000 civilians have been killed and 5,000 injured since the war began.
10,000-plus people took to the streets of Sana'a on March 26 to protest the Saudi-led intervention in Yemen. Former President Ali Abdullah Saleh, who was ousted during the Arab Spring but has since forged an alliance with the insurgent Houthis, made a rare appearance at the rally.
11 of Yemen's 22 provinces are on the verge of famine as a result of the ongoing war, according to the U.N. World Food Program. More than 13 million Yemenis are believed to be in need of food aid.
The 6 Gulf Cooperation Council (GCC) members announced in early March their decision to designate Hezbollah as a terrorist organization. The move is a reflection of the GCC's growing unease about the role of Iran (which is a major funder of Hezbollah) in Lebanon.
480,000 Syrian refugees must be accepted within the next three years by nations across the world, U.N. Secretary General Ban Ki-moon urged in late March. He rebuked political leaders for demonizing refugees and said that neighboring countries "have done far more than their share" to assist those fleeing the violence in Syria.
1,073 people died in violence in Iraq in March, according to Iraq Body Count.
69 people were killed in a suicide attack at a park in Lahore, Pakistan on March 27. The attack was meant to target Christians celebrating the Easter holiday, however most of the victims were Muslims.
###
---
AET is a non-profit foundation that publishes the Washington Report on Middle East Affairs(www.wrmea.org) and maintains Middle East Books and More (middleeastbooks.com).
+++
A Monaco-based company called Unaoil cultivated an astonishing web of influence. Huffington Post.  March 30, 2016
+++
+++
+++
+++
The Dirty War on Syria: Professor Anderson Reveals the "Unspoken Truth"
By Prof. Tim Anderson
Global Research, March 14, 2016
Url of this article:
http://www.globalresearch.ca/the-dirty-war-on-syria/5491859Although every war makes ample use of lies and deception, the dirty war on Syria has relied on a level of mass disinformation not seen in living memory. The British-Australian journalist Philip Knightley pointed out that war propaganda typically involves 'a depressingly predictable pattern' of demonising the enemy leader, then demonising the enemy people through atrocity stories, real or imagined (Knightley 2001). Accordingly, a mild-mannered eye doctor called Bashar al Assad became the new evil in the world and, according to consistent western media reports, the Syrian Army did nothing but kill civilians for more than four years. To this day, many imagine the Syrian conflict is a 'civil war', a 'popular revolt' or some sort of internal sectarian conflict. These myths are, in many respects, a substantial achievement for the big powers which have driven a series of 'regime change' operations in the Middle East region, all on false pretexts, over the past 15 years.
+++
Abby Martin interviews journalist and author Max Blumenthal about the ongoing rebellion, the rising dominance of far-right, ultra-racist ideology in Israel, eyewitness accounts of the aftermath of the Gaza war, and the Israeli government's fear of Palestinian resistance.
DATE: 2015-11-15 | LENGTH: 28:10
therealnews.com
+++
A crisis in Palestine is again all over the headlines. From stabbings and molotov cocktails, to killing of protesters and anti-Arab lynch mobs–how much of the mass media coverage can we really trust?
+++
Terrorist Attacks in Paris: Can Tragedy Bring Change?byDIANA JOHNSTONE Counterpunch  November 16, 2015
Paris.
The chaos is spreading from the Middle East into Europe.  An endless stream of unidentifiable refugees and migrants trudge through the Balkans toward the promised lands of Germany and Sweden. Fights are breaking out in refugee camps between national groups. Both the migrants massed near Calais trying vainly to enter Britain and the exasperated citizens of Calais are increasingly impatient and angry. National leaders who, with the vision of happy European integration on their minds, embraced and advocated the ideals of open borders and multiculturalism, are rudely awakening to their inability to cope.  And now Paris has suffered the sort of attacks that are familiar to Beirut or to Russia.
+++
Spain Issues Arrest Warrants for Netanyahu and Senior Israeli OfficialsPosted on Nov 16, 2015  truthdig.com
Israeli Prime Minister Benjamin Netanyahu. (CC BY-SA 3.0)
Israeli Prime Minister Benjamin Netanyahu and six other former and current government officials are at risk of arrest if they enter Spain, following the issue of what is effectively an arrest warrant for the group by a Spanish judge.
Spanish national court judge Jose de la Mata ordered the police and civil guard to notify him if Netanyahu or the other men enter the country, the Latin American Herald Tribune reports. That could result in the reopening of a case against them concerning the Gaza Freedom Flotilla attack of 2010.
The other men named in the issue are former Defense Minister Ehud Barak, former Foreign Minister Avigdor Leiberman, former Minister of Strategic Affairs Moshe Ya'alon, former Interior Minister Eli Yishai, Knesset member Benny Begin and Vice Admiral Eliezer Marom, who was in charge of the attack.
+++
Is Israeli-Palestinian Peace Impossible?
Consortium News  November 13, 2015
Israel's long-running persecution of the Palestinians continues to stir up hatreds and violence across the Middle East, but Prime Minister Netanyahu remains intent on shifting the collective blame to the people under Israeli occupation, a dilemma that Michael Winship examines.
+++
What's at Stake for Iran in Syria?Prof. Cyrus Bina says during the Iran-Iraq war, Assad's Syria was the only Arab state that supported Iran –   October 29, 2015
Transcript AvailablePAUL JAY, SENIOR EDITOR, TRNN: Welcome to Reality Asserts Itself on the Real News Network. I'm Paul Jay.It's a very complicated and very dangerous world we live in. And perhaps the fight or conflict that's most complicated right now is emblematic of how difficult it is to come to terms with the current balance of forces in the world is what's going on in Syria. Just about everybody in the planet that has any real geopolitical power has their finger in that pie.Of course, the people who are paying the consequences in their tens and hundreds of thousands are the Syrian people.But we're going to try to get more of a handle on what's happening, and we're going to do it through the prism of understanding Iran and their interests in the region. And through that, looking at the issue of oil and U.S. foreign policy. And now joining us to talk about all of this in the studio is Cyrus Bina. Cyrus was born in Tehran. He was an activist against the Shah. He left during the Shah regime for the United States in 1971. He continued his activism against the Shah while he was here. He's now a Distinguished Research Professor of Economics at the University of Minnesota Morris. He's the author of several books, including the latest: A Prelude to the Foundation of Political Economy: Oil, War, and Global Polity.Cyrus Bina is a Professor of Economics at the University of Minnesota, and a Fellow with the Economists for Peace and Security.
 TheRealNewsOctober 29, 2015
+++
Israeli "Ethicist" Protested at University of Minnesota
Published on Nov 5, 2015
The Anti-War Committee protested at the University of Minnesota Law School, Tuesday, November 3rd. The Law School hosted Hebrew University professor Moshe Halbertal and paid a $5,000 fee, for a lecture titled "Protecting Civilians: Moral Challenges of Asymmetric Warfare."
+++Anti-Israel Activism Criminalized in the Land of Charlie Hebdo and "Free Speech"Glenn Greenwald   The Intercept  October 27, 2015+++Iran to Join Syria TalksPhyllis Bennis of the Institute for Policy Studies says the invitation to Iran is late but an essential move for a diplomatic regional solution, made possible by Russia's escalated involvement in Syria.The Real News Network  October 27, 2015Uploaded on Oct 27, 2015
+++
Thousands of Israelis March for Peace with Palestinianshttp://www.teleSURtv.net/english  October 24, 2015+++Three from TomDispatch.com
+++Two from Mint Press NewsRussia Blocked Israeli Military Fights Over Syria, Lebanon  October 19, 201572% Of Saudi Death Sentences Handed Down For Non-Violent Crimes  October 22, 2015+++THE DRONE PAPERS | PART 1: THE ASSASSINATION COMPLEX
October 16, 2015 · by Rise Up Times
All eight parts of The Drone Papers have now been published on RiseUpTimes.org. You may view them there or on The Intercept webpage.  All are related to drone strikes in the Middle East.
Scahill: The source said he decided to provide these documents to The Intercept because he believes the public has a right to understand the process by which people are placed on kill lists and ultimately assassinated on orders from the highest echelons of the U.S. government.
+++Netanyahu slammed for blaming Holocaust on Palestinians
Palestinians – along with Israeli opposition figures – have reacted angrily to recent statements by Israeli Prime Minister Benjamin Netanyahu in…
MIDDLEEASTMONITOR.COM  October 21, 2015
+++
US to increase its annual military aid to Israel by as much as $1bn
Published on Oct 22, 2015
The United States is planning to increase its annual military aid to Israel by as much as one billion dollars. This will add to the current 3.1 billion dollars that Tel Aviv annually receives from Washington. A source close to the military aid process says talks are now underway for finalizing the deal. Israeli officials have denied the report as a rumor. Tel Aviv had reportedly stalled the talks on the hike and a compensation package that it will receive because of Iran's nuclear deal, until that agreement was approved. Tel Aviv uses Washington's aid money to buy weapons as well as other equipment and supplies, such as fuel. As of 2012, the US has provided Israel with about 234 billion dollars in aid.
YOUTUBE.COM
+++
Israel Receives $3.1B In US Aid While The Middle East's Poor Struggle To Survive
By Kit O'Connell  @KitOConnell | October 19, 2015  Mint Press News
JERUSALEM — Every year, Israel receives billions of dollars in U.S. aid, despite the fact that its citizens enjoy a standard of living well above that of neighboring countries. And while the Middle East struggles through a historic refugee crisis, Israel is using U.S. taxpayer money to fuel its war crimes against Palestine and oppression of refugees.
Israelis earn an average per capita income of $34,990 — more than three-and-a-half times what its neighbors in Lebanon earn and almost 19 times more than Syrians take home each year — yet the country continues to receive billions in U.S. aid.
Third Intifada Or Zionist Jihad: Israel Escalates Tensions With Execution Style Force
No matter the label, one thing is clear: Violence is escalating and Netanyahu has no strategy for addressing Palestinian grievances short of more force and more blood spilled from Israelis and Palestinians alike.
October 16, 2015 Mint Press News
+++America's 'perpetual war' in the Middle East must endOur involvement isn't helping, and it's bankrupting our nation.
STARTRIBUNE.COM
+++U.S. to Ax $500 Million Scheme to Train Syrian Rebelstruthdig.com Ear to the Ground  October 9, 1015+++Putin's "Endgame" in SyriabyMIKE WHITNEY  Counterpunch.org  October 9, 2015
Russia doesn't want to fight a war with Turkey, so Russian generals devised a simple, but effective plan to discourage Turkey from taking any action that could lead to a clash between the two nations.
+++Over 1,000 ISIS and Al Nusra Militants Surrender To Syrian Army In Last 24 Hours  Global Research  October 9, 2015+++Three from RiseUpTimes.org  October 9, 2015GLOBAL RESEARCH: NATO VOWS BIGGEST BUILDUP AGAINST RUSSIA SINCE COLD WARGLOBAL RESEARCH: WHY SYRIANS SUPPORT BASHAR AL ASSADVFP CHAPTER 27: LETTER TO MN CONGRESSPEOPLE RE GOLAN HEIGHTS+++
VIDEO | CHRIS HEDGES: THE REVOLUTIONARY AGE
October 7, 2015 · by Rise Up Times
Chris Hedges and Sabah Alnasseri dissect the genesis of political revolutions in the Middle East and discuss the role of religion and the reasons for the increased prevalence of fundamentalism in this episode of teleSUR's Days of Revolt.
+++
Russia Strikes in Syriatruthdig.com  Posted on Oct 3, 2015Patrick Chappatte, International New York Times. Cagle Cartoons+++The Skies of the MideastPosted on Oct 2, 2015  By Jeff Danziger  truthdig.com+++Russian Involvement and a Redirection of Policy on Syria
Paul R. Pillar  The National Interest  September 20, 2015
+++
Migrant Crisis & Syria War Fueled By Competing Gas Pipelines
Don't let anyone fool you: Sectarian strife in Syria has been engineered to provide cover for a war for access to oil and gas, and the power and money that come along with it.By Mnar Muhawesh  @mnarmuh | September 9, 2015
Mint Press Editor's note: This article has been updated to reflect recent Wikileaks revelations of US State Department leaks that show plans to destabilize Syria and overthrow the Syrian government as early as 2006.  The leaks reveal that these plans were given to the US directly from the Israeli government and would be formalized through instigating civil strife and sectarianism through partnership with nations like Saudi Arabia, Turkey, Qatar and even Egypt to break down the power structure in Syria to weaken Iran and Hezbolla.
In his appearance on the RT show "Going Underground," Wikileaks editor Julian Assange elaborated on the cable's contents:
"… That plan was to use a number of different factors to create paranoia within the Syrian government; to push it to overreact, to make it fear there's a coup …"
Assange continued, explaining that the U.S. government sought to make the Syrian government appear weak by causing Assad to overreact to the threat of Islamic extremists crossing into his country.
The cable also details plans to foster sectarian strife in the region and make Iran appear like a larger threat to Assad than it really was, Assange continued:
"In particular, to take rumors that are known to be false … or exaggerations and promote them – that Iran is trying to convert poor Sunnis, and to work with Saudi and Egypt to foster that perception in order to make it harder for Iran to have influence, and also harder for the government to have influence in the population."
"[I]f Syria sufficiently destabilized, it [Israel] might be in a position where it can keep the Golan Heights forever, or even advance that territory," Assange said.
+++
Is The US Setting Up A Proxy War Against Russia In Syria?
The "fight" has to be on America's terms, even if the terms the US has laid out publicly don't make any sense, with the US nominally trying to destroy ISIS, destroy al-Qaeda, and destroy the Syrian government all at the same time, installing some non-existent pro-US faction in their place.By Jason Ditz for Antiwar.com | September 16, 2015  via Mint Press News
+++
AIPAC SPENT MILLIONS OF DOLLARS TO DEFEAT THE IRAN DEAL. INSTEAD, IT MAY HAVE DESTROYED ITSELF.
M.J. Rosenberg  The Nation  September 11, 2015
+++
Madness of Blockading Syria's Regime
Robert Parry   Consortium News  September 10, 2015
Exclusive: The U.S. State Department is trying to block Russian supplies going to Syria's embattled government despite the risk that collapsing the regime would create a vacuum filled by the Islamic State or Al Qaeda, another nightmare dreamt up by the neocons and liberal hawks, writes Robert Parry.
+++Russia Ramping up Military Involvement in Syria?
By Juan Cole | Sep. 10, 2015 |
(Informed Comment)
Reuters reports, based on sources in Beirut, that Russia is increasing its involvement in Syria, backing the military of beleaguered dictator Bashar al-Assad. Russia appears to be offloading tanks at its Tartous naval base on the Syrian coast, and may also be establishing an interior air field for Russian planes. Increased numbers of Russian advisers and support troops are being embedded in Syrian army units. …
****
Russia seems mainly, however, to intend to put some steel in the spine of al-Assad's forces. If the reports of increased Russian presence in Syria are true, these steps resemble the Obama administration's reestablishment of an Iraq command from last year in the face of the Daesh onslaught.
+++GARETH PORTER: Why the US and Iran Aren't Cooperating Against ISISCounterpunch  September 10, 2015+++
Israel Lobby Stops Iran's Help on Syria
Gareth Porter  Consortium News  September 9, 2015
Despite the worsening Mideast crisis, President Obama can't escape the tight policy constraints imposed by neocon thinking. The obvious move to work with Iran to save Syria from an Islamic State or Al Qaeda victory is blocked by the influence of the Israel lobby, writes Gareth Porter for Middle East Eye.
+++
More Incoherence in Syria Policy
Greg Maybury  Consortium News  September 9, 2015
Australia is the latest U.S. ally to join the bombing campaigns against Islamic State militants inside Syria, but the incoherence of the strategy is underscored by Washington's continuing refusal to negotiate seriously with the Syrian government about a realistic political settlement of the war, writes Greg Maybury.
+++42 Senators Now Back Iran Deal, Ensuring Passage House Plans 9/11 Iran Vote as GOP Looks to Undermine Nuclear Deal Iran Nuclear Deal Battle Is Over, but Fight Is Just Beginning+++CO-OP NEWS   Co-op Anti-War Café Berlin  September 2015+++German Left Party: U.S. Main Cause of the Refugee Crisis. Must Be Held ResponsibleIn a statement published in the German media this Sunday, the chairs of the German Left Party, Sahra Wagenknecht and Dietmar Bartsch have stated the following:
"Western countries led by the U.S. have destabilized entire regions, by making possible and using terrorist organizations. Murderous gangs, such as the Islamic state (IS) were indirectly supported and supplied by countries allied with Germany – this happened unhindered. It happened through financial support and weapons. Millions of people were thereby exposed to brutal wars, civil wars."+++The following article is presented in full because some may not have access to a translation.
Sahra Wagenknecht makes the United States for the refugee crisis in Europe partly responsible.
© dpa
Updated: 06.09.15  Merkur.de
DESTABILIZATION IN THE MIDDLE EASTLeft: US to blame for refugee onslaught
Washington – The leftists make the United States responsible for the high number of refugees in Europe.
"Western countries led by the US have entire regions destabilized by they have made and instrumentalized possible among other terrorist organizations," it says in a position paper of the designated group chairmen Dietmar Bartsch and Sahra Wagenknecht, which was present to the AFP news agency on Sunday.
"Cutthroats" as the Islamic State (IS) were indirectly supported and been supplied by countries allied with Germany unhindered with money and weapons. "Millions of people were exposed as brutal wars and civil wars."
From Syria, but also from other war and crisis zones, many more refugees were expected, it said in a position paper. In order to improve the situation of people in the countries of origin and to eliminate causes of flight, "a course reversal in the prevailing policies necessary".
"Who turned the Middle East with wars, terror drones, arms shipments and deliberate destabilization in a fire, is responsible for ensuring that millions of people to leave their homes," said Wagenknecht. "If the federal government would have a minimum level of Courage, it would require the United States, as the main cause of the refugee tragedy, at least one contribution to the costs."
The refugee reception must be placed into the considerable responsibility in the government, according to the paper by Wagenknecht and Bartsch, who are previously deputy faction leaders. The federal government should take over the cost of the asylum procedure duration and for a transitional period after the recognition, so that states and municipalities can focus on local integration.
AFP
+++U.S. and its allies responsible for refugee crisisFightBackNews.org  September 5, 2015+++
YEMEN'S HIDDEN WAR: HOW THE SAUDI-LED COALITION IS KILLING CIVILIANS
Sep. 1 2015, 9:45 a.m.  TheIntecept.com
IN THE ISLAMIC CONCEPT of qadar, your divine destiny is inescapable. If you try to cheat death it will find you. For two women on a dusty road in mid-June on the southwest corner of the Arabian Peninsula, their repeated attempts to dodge fate ended in tragic failure
+++Posts from Middle East Eye  August 29, 2015This is how one German town welcomed a coach-load of Syrian refugees
Turkish planes hit IS in Syria with coalition for first time #TurkeyAtWar
Hamas releases new details of Israel's 'Black Friday' massacre #GazaAftermath
Canada calls for 'immediate' return of convicted Al-Jazeera journalist #EgyptTurmoil
Saudi preacher accused of murdering and raping daughter released #SaudiStruggle
One man's journey to Europe: Syria's Givara reaches Germany #JourneyToEurope
+++
US backing of Saudi use of cluster bombs very despicable: Analyst
Sun Aug 23, 2015 10:1PM   PressTV
Video: US State Department spokesman John Kirby
The US State Department's comments indirectly backing the use of cluster bombs by Saudi forces in Yemen are "very despicable," a geopolitical commentator in Missouri says.
+++
U.S. Debates Iran Nuclear Deal While Supporting Israel's Nuclear Weapons
Israel is capable of delivering a nuclear warhead three ways: through fighter jets, a midrange missile system, or using submarines.By Kit O'Connell  @KitOConnell | August 21, 2015
JERUSALEM — While the Iran deal is often touted as the only possible solution to prevent the proliferation of nuclear weapons in the Middle East, both U.S. and Israeli intelligence reports suggest that country never intended to build a nuclear weapon. Meanwhile, Israel, one of its regional neighbors, possesses not only 80 functioning nuclear warheads but also the capability to use them.
+++Hundreds of casualties in air raids on Syrian market
At least 110 people dead and 300 injured in a string of regime air raids on Douma near Damascus, activists say.
16 Aug 2015 23:51 GMT | Middle East, Syria  Al Jazeera
Highest number of Syria air strikes recorded in July
Syria conducts 6,673 air raids, highest since start of uprising in 2011, killing 791 civilians, monitoring group says.
War & Conflict, Middle East, Syria, Syrian crisis  Al Jazeera
UN urged to demand halt to Syria air strikes
More than 70 nations sign letter to UN General Assembly to demand end to deadly attacks, especially use of barrel bombs.
War & Conflict, Middle East, Syria, Bashar al-Assad  Al Jazeera
+++
Obama's Stupid Blame-Iran Game
by Gareth Porter
August 14, 2015  Consortium News
President Obama always bows to Official Washington's conventional wisdom no matter how wrongheaded it is – and then either falls in line behind some reckless neocon policy prescription or turns away just before falling off some geopolitical cliff. His continued Iran-bashing is a case in point, says Gareth Porter at Middle East Eye.
+++
Neocons Falsify Iraq War 'Lessons'
August 15, 2015  Consortium News
Having escaped accountability for the Iraq War disaster, U.S. neocons are urging the use of more military force in the Mideast, in line with Israeli Prime Minister Netanyahu's demand to block the Iran nuclear deal. From their important perches of power, these war hawks also twist the history of their catastrophic misjudgments, writes ex-CIA analyst Paul R. Pillar.
+++Three articles from truthdig.com, August 15, 2015How the Israel Lobbies Hurt the University of Illinois and the First Amendment in the Salaita Case
By Juan ColePlaces That AIPAC Would Never Show U.S. Congress Members on Their Upcoming Propaganda Trip to Israel
By Max BlumenthalPutin Pitches Grand Alliance Against Islamic State, but Syrian Rebels Want Assad Gone (Video)
By Juan Cole+++If It's Going to Push Us to War, Is It Time for AIPAC to Register as a Foreign Agent?   By Juan Cole  truthdig.com  Aug. 11, 2015Top Iran General Endorses Nuclear Deal With the U.S. and the U.N. (Video)   By Juan Cole  truthdig.com  Aug. 11, 2015+++Behind Israel's Hysterical Opposition to the Iran Nuclear DealbyISMAEL HOSSEIN-ZADEH  Counterpunch  August 7, 2015
In light of the fact that Israel is in possession of at least 200 (surreptitiously-built) nuclear warheads, and considering the reality that, according to both US and Israeli intelligence sources, Iran neither possesses nor pursues nuclear weapons, the relentless hysterical campaign by Israel and its lobby against the Iran nuclear deal can safely be characterized as the mother of all ironies—a clear case of chutzpah.
+++
Obama's Pragmatic Appeal for Iran Peace
August 5, 2015 Consortium News
Exclusive: President Obama defended the Iran nuclear deal and urged Americans to support this initiative for peace, but his choice of American University for the speech invited comparisons with JFK's famous words that "we all inhabit this small planet" and Obama fell far short of that standard, writes Robert Parry.
+++
LIZA BURR | ISRAELI HISTORIAN ILAN PAPPE ON CHANGING PERCEPTIONS: ISRAEL/PALESTINE
July 25, 2015 · by Rise Up Times
From the article: Islam is not the issue. The issue is Israel's human and civil rights record, on which Israel should be measured with the same yardstick by which other countries are measured.
+++
MARY BEAUDOIN/SAMI RASOULI | IRAQ AND I$I$: TODAY IS BETTER THAN TOMORROW
July 24, 2015 · by Rise Up Times
From the article: "In Iraq, we say today will be better than tomorrow." This is the dire pessimism with which the people of Iraq now view their circumstances, Sami Rasouli said in June when he was in Minneapolis, the city in which he had lived for so many years before returning to found the Muslim Peacemaker Teams,(5) a nonprofit organization based in Najaf that works on peace building and responding to human needs. He reported that the situation for Iraqis only continues to decline in livability and increase in danger and disaster
+++
NONVIOLENT RESISTANCE IN PALESTINE: STEADFASTNESS, CREATIVITY & HOPE
July 23, 2015 · by Rise Up Times
"We have to have hope to resist"
As the Stop the Wall Coalition demonstrates, steadfastness (sumud) in Arabic and nonviolent discipline are essential ingredients of a successful movement. Members of the village communities have learned that they must continue to struggle, day by day, week by week, despite the violence directed at them. Freedom does not come easy. "You have to be willing to sacrifice for freedom, and above all else, believe in your cause and what you're struggling for. If you believe, you will continue, if you continue, you will succeed."
+++
By Counterspin  July 17, 2015
This week on CounterSpin: The New York Times tells readers Barack Obama was moved to negotiate a deal with Iran because of his personal "faith in diplomacy." Is that an appropriate way to understand how these negotiations came to be? Our guest has an alternate view. We'll hear from investigative journalist Gareth Porter, author of Manufactured Crisis: The Untold Story of the Iran Nuclear Scare.
+++No, Mr. Netanyahu, Iran isn't trying to Take over the world & it isn't ISIL
By Juan Cole | Jul. 13, 2015  (Informed Comment) |
Israeli Prime Minister Binyamin Netanahu charged last week that Iran was the major sponsor of terrorism in the world and that it wants to take over the whole world. He also likened Iran to the faux caliphate in Iraq and Syria.
Iran is not trying to take over the world. Here are some replies to Netanyahu's silliness:
One sign Iran is not trying to take over the world is that, as I have written before, "it has a small military budget, about $10 bn., on the order of that of Norway or Singapore. It has no air force to speak of. The US military budget is roughly 80 times that of Iran."
+++Report: Draft of nuclear deal with Iran gives UN access to military sites
U.S. Secretary of State John Kerry pauses as he delivers a statement on the Iran talks in Vienna, Austria, July 9, 2015. Photo by Reuters
UN inspectors would have access to all suspect Iranian sites, including military ones, under a draft nuclear deal that six major powers and Iran areworking to finalize on Tuesday, a diplomatic source said.The person, who spoke on condition of anonymity, said the UN access would be based on consultations between the six powers and Iran under the draft deal, which would impose limits on the Iranian nuclear program in return for economic sanctions relief.+++UN Report on War Crimes during Israel's 51 Day Assault on GazaExactly a year ago, for 51 days between July 7 and August 26 Israel carried out its third major military assault (2008-09; 2012; 2014) on Gaza in the past six years. This last one, code named Operation Protective Edge by Israeli Defense Forces, was the most vicious, killing 2,251 Palestinians, of which 1,462 were civilians, and included 299 women and 551 children, as well as injuring 11,231, a number that includes 3,436 children, 10% of whom have permanent disabilities, and another 1,500 have been orphaned. Israel also suffered casualties: 73 killed of whom 67 were military personnel, and 1,600 injured. Additional to the human casualties, 18,000 Palestinian housing units were destroyed, along with substantial damage to Gaza's electricity and sanitation systems, 500, 000 Palestinians (almost 1/3 of Gaza's population) were forcibly displaced during the military operations and 100,000 remain so a year later, and 73 medical facilities and ambulances were destroyed or damaged. Due to the Israeli blockade, the aftermath of this onslaught has prevented a normal recovery, extending the period of suffering endured by the entire Gazan population.  —Richard Falk.  To read more click on the title.+++They did it! UCC Divests from Israeli Occupation, and More!by US Campaign Staff
June 30th, 2015There is no turning back now…It passed! The United Church of Christ (UCC) just voted OVERWHELMINGLY to divest from the Israeli occupation, to boycott Israeli settlement products, to persist in pressuring Congress to end U.S. unconditional military aid to Israel, and to study Kairos Palestine and heed its call in solidarity with the Palestinian people. Congratulations to member group United Church of Christ Palestine Israel Network (UCC-PIN), which led this historic initiative and issued a statement here.- See more at: http://www.endtheoccupation.org/article.php?id=4486#sthash.O5tTFRPL.dpuf+++
 Netanyahu's 'Genocidal' Cabinet Promises More Conflict, Isolation For Israel
Members of Benjamin Netanyahu's new cabinet have previously called Palestinians "beasts" and their children "little snakes," warned of the "cancer-like attributes" of Palestinian society, and celebrated the ethnic cleansing of Palestinians, among other atrocities.
By Joe Catron  @jncatron | May 15, 2015

Israeli Prime Minister Benjamin Netanyahu, second right, heads the new government as ministers take their place including Defense Minister Moshe Ya'alon, left, and Moshe Kahlon, Housing Minister, second left, as the prime minister fills cabinet posts at the last minute forming the 34th government of Israel, two months after the mid-March general elections.
NEW YORK — The extremism of the cabinet announced by Israeli Prime Minister Benjamin Netanyahu on May 6 will bring further conflict and isolation to his country, analysts told MintPress News this week.
Members of the government have previously called Palestinians "beasts" and their children "little snakes," warned of the "cancer-like attributes" of Palestinian society, celebrated the ethnic cleansing of Palestinians, and called for wholesale bombings of their homes and funerals.
The unprecedented ferocity of these comments has sparked wide concern among international observers, as well as Palestinians.
+++
Five Things That Won't Work in Iraq
When at First You Don't Succeed, Fail, Fail Again 
By Peter Van Buren  TomDispatch  June 25, 2015
In one form or another, the U.S. has been at war with Iraq since 1990, including a sort-of invasion in 1991 and a full-scale one in 2003. During that quarter-century, Washington imposed several changes of government, spent trillions of dollars, and was involved in the deaths of hundreds of thousands of people. None of those efforts were a success by any conceivable definition of the term Washington has been capable of offering.
Nonetheless, it's the American Way to believe with all our hearts that every problem is ours to solve and every problem must have a solution, which simply must be found. As a result, the indispensable nation faces a new round of calls for ideas on what "we" should do next in Iraq.
With that in mind, here are five possible "strategies" for that country on which only one thing is guaranteed: none of them will work.
+++
On June 25, 2014, Salwa Bugaighis was shot dead in her home by unknown militants, marking a new milestone in the country's descent towards anarchy: the first female political assassination.
By Cameron Hickey and Zainab Salb  New York Times   June 7, 2015
Continue reading the main story
Scores or perhaps hundreds of killings remain unsolved in Benghazi, Libya, since the ouster of Col. Muammar el-Qaddafi nearly four years ago. But no victim has symbolized the crushed hopes of the Libyan uprising more than Salwa Bugaighis.+++
Families of Drone Strike Victims in Yemen File Suit in Washington
By SCOTT SHANE  New York Times  JUNE 8, 2015
 Faisal bin Ali Jaber, brother-in-law of the cleric Salem Ahmed bin Ali Jaber and uncle of the police officer Waleed bin Ali Jaber, at a news conference in Washington in 2013.CreditNicholas Kamm/Agence France-Presse — Getty Images
WASHINGTON — The families of an anti-Qaeda cleric and a police officer killed in an American drone strike in Yemen filed suit in federal court in Washington on Sunday night, asking the court to declare that the strike was unlawful.
The lawsuit, which seeks no monetary damages, is described by the complainants as an attempt to break through the secrecy surrounding drone strikes and to have the court impose some public accountability for mistakes made in the program.
+++This note was in Rise Up Times comments.
John Mesler
meslerjohn@yahoo.com
73.199.44.206
Submitted on 2015/06/05 at 11:36 am
I recently returned from Syria as part of a reconciliation/peace meeting sponsered by Damascus University. Dr. Ahmed Saleh has asked me to help get more US writers /activists,. etc. to go again. Please contact me f you know of anyone interested. We've got to stop the rebel/terrorists .sectarian Islamist funding. Thank you, John Mesler phone 908-403-8860
+++
Consortium News  June 3, 2015
Exclusive: The New York Times' new conspiracy theory about Syria is that the Assad regime is in cahoots with the Islamic State, calling those two bitter foes only "nominal enemies" and using this new story to implicitly push for another U.S.-imposed "regime change," writes Robert Parry.
+++Faculty call on New York University to reveal Israel investments
Submitted by Nora Barrows-Friedman on Wed, 05/27/2015  Electronic Intifada
Dozens of faculty at New York University (NYU) have signed a petition calling for the university to divest from multinational companies that profit from Israel's occupation in Palestine.
+++Pentagon report predicted West's support for Islamist rebels would create ISIS
UCC vote.
The Empire Files: The Distortion & Death Behind Israel/Palestine Coverage
A crisis in Palestine is again all over the headlines. From stabbings and molotov cocktails, to killing of protesters and anti-Arab lynch mobs–how much of the mass media coverage can we really trust? Watch more on teleSUR DATE: 2015-11-06 | LENGTH: 25:35
 By Nafeez Ahmed  Medium.com  May 22, 2015
Anti-ISIS coalition knowingly sponsored violent extremists to 'isolate' Assad, rollback 'Shia expansion'
+++
Egypt's Descent into Despotism
Consortium News  May 30, 2015
Egypt's brief experiment with democracy was crushed by internal and external forces alarmed by a populist Islamic government. With the backing of Israel, Saudi Arabia and others, a brutal military despotism took over and consolidated power, but it shouldn't be called a government, says Lawrence Davidson.
+++
Is War on ISIS America's Fight?
The Sunni resistance to the U.S. invasion of Iraq in 2003 led to what is now ISIS or the Islamic State, and many U.S. hawks now want President Obama to "surge" troops back into Iraq to fight this brutal force. But what is the right calibration for U.S. involvement, asks ex-CIA analyst Paul R. Pillar.
By Paul R. Pillar  Consortium News  May 29, 2015
+++
Israeli Air Force Carries Out Airstrikes On Besieged Gaza Strip
The Israeli army said the shelling was in retaliation for at least one shell, allegedly fired from Gaza into open areas in the Lachish Regional Council of Settlements.By IMEMC News | May 27, 2015  MintPressNews.com+++
US Presses Israel On talks For Middle East Nuclear-Free Zone
Israel has never publicly declared what is widely considered to be an extensive nuclear weapons program.
By AP | May 21, 2015
Israel's Sorek nuclear reactor center near the central Israeli town of Yavne.
UNITED NATIONS — The United States has sent a top official to Israel in an effort to revive talks on a Middle East zone free of nuclear weapons, a central issue of a nuclear treaty review conference that some fear will end Friday without progress on global disarmament.
+++
Palestinian Detainees In Israeli Prisons Continue To Be Abused By Interrogators
Israeli forces use extreme and brutal methods to force confessions out of Palestinian detainees for "crimes against Israel" such as stone-throwing.
By IMEMC News | May 26, 2015
An Israeli border policeman detains a Palestinian protester during a weekly demonstration against Israel's separation barrier in the West Bank village of Bilin near Ramallah, Friday, Feb. 13, 2015.
The head of the Palestinian Authority prisoners' affairs committee, Issa Qarage, met with former detainee Noor Muhammad Hilmi Hamamrah, age 15, while visiting prisoners' families in the northern West Bank village of Qusin in the Nablus district.
+++
The U.S and Israel Have the Worst Income Inequality in the Developed WorldTruthdig  May 21, 2015+++
Consortium News  May 23, 2015
Exclusive: The Saudi-Israeli alliance and U.S. neocons have pressured President Obama into continuing U.S. hostility toward the secular Syrian government despite major military gains by the Islamic State and Al-Qaeda's Nusra Front, leading to an emerging catastrophe in the Mideast, as Daniel Lazare explains.
+++
Obama Winks at Terrorist Gains
Consortium News  May 23, 2015
President Obama is playing a reckless game as he winks at Saudi and other Sunni oil-state support for al-Qaeda affiliates in Syria, with the very real possibility that the secular government will collapse and the terrorist black flag will be hoisted over Damascus, writes Gareth Porter.
Israel Seeks International Law Rewrite
Consortium News  May 23, 2015
Israel and its supporters are leading a charge to rewrite how international law defines crimes against humanity to create more leeway for military attacks that kill large numbers of civilians, a bitterly ironic development, says Lawrence Davidson.
+++
Economy of Gaza on 'Verge of Collapse' With World's Highest UnemploymentPosted on May 22, 2015  truthdig.com
Unemployment rates of 43 percent for Gaza's general population and 60 percent for young people suggest a bleak future for Israel as well as Gaza.
The Guardian reports:
The economy of Gaza – assailed by war, poor governance and a joint Israeli-Egyptian blockade – has reached the "verge of collapse" with the coastal strip suffering the highest rate of unemployment in the world.
The bleak picture is presented in a devastating report by the World Bank, released on Friday, which said that Gaza's economy had been strangled by years of blockades, war and poor governance and faces a dangerous crisis over its ability to meet wages and other spending requirements.
Calling for the "lifting of the blockade on the movement of goods and people to allow Gaza's tradable sectors to recover" the report warned that about 43% of Gaza's 1.8 million residents are unemployed, with youth unemployment reaching about 60% by the end of last year.
Continue reading here.
—Posted by Alexander Reed Kelly.
Related Entries
The U.S. and Israel Have the Worst Income Inequality in the Developed World
Where Does Israel Get the Right to Lock Thousands of Civilians Behind a Gate?
Whom Does Jerusalem Belong To?
Palestinians Welcome the Pope's Recognition of Their State
+++
How the US Treasury Department Promotes Israel's Propaganda LinesBy Gareth Porter, Truthout | News Analysis
The US Department of the Treasury, Washington, DC. (Photo: Florian Hirzinger)
In February, a press release by the US Treasury Department pushed the Israeli propaganda line about worldwide Hezbollah terrorist cells – this time in Nigeria. A closer look at the case reveals that Mossad had engineered a frame-up of two Lebanese businessmen through its power over Nigeria's State Security Service.
Read more…+++Confirmed: US "Operation Rooms" Backing Al Qaeda in SyriaBy Tony Cartalucci  Global Research  May 11, 2015Url of this article:
http://www.globalresearch.ca/confirmed-us-operation-rooms-backing-al-qaeda-in-syria/5448712
US policy think-tank Brookings Institution confirms that contrary to propaganda, US-Saudi "moderates" and Turkey-Qatar "Islamists" have been coordinating all along.The war in Syria continues to drag on, with a recent and renewed vigor demonstrated behind an opposition long portrayed as fractured and reflecting a myriad of competing foreign interests. Chief among these competing interests, the public has been told, were the US and Saudis on one side, backing so-called "moderate rebels," and Turkey and Qatar on the other openly backing Al Qaeda and its various franchises including the Islamic State (ISIS).+++"Kill Anything": Israeli Soldiers Say Gaza Atrocities Came from Orders for Indiscriminate FireDemocracy Now!  May 6, 2015A new report based on testimonies of Israeli soldiers concludes the massive civilian death toll from last summer's Israeli assault on Gaza resulted from a policy of indiscriminate fire. The Israeli veterans group Breaking the Silence released testimonies of more than 60 Israeli officers and soldiers which it says illustrate a "broad ethical failure" that "comes from the top of the chain of command." More than 2,200 Palestinians were killed in the assault, the vast majority civilians. On Israel's side, 73 people were killed, all but six of them soldiers.+++
US Media Shields Saudi War on Yemen
May 5, 2015  Consortium News
The U.S. news media always seems to have an excuse for the actions of the Saudi-Israeli alliance, now trivializing Saudi Arabia's open aggression against Yemen as simply one side of a "proxy war" with Iran, a misleading depiction, says Gareth Porter.
Read more →
SAMPLES OF ISRAELI HORRIFIC BRUTALITY AND WAR CRIMINALITY IN GAZAThe Intercept  Glenn Greenwald  May 4, 2015The Israeli group Breaking the Silence issued a report this morning containing testimony from Israeli soldiers about the savagery and criminality committed by the Israeli military during the attack on Gaza last summer. The Independent has a good article describing the report's findings: "The Israeli military deliberately pounded civilian areas in the Gaza Strip with incessant fire of inaccurate ordinance" and "was at best indifferent about casualties among the Palestinian population." At best.+++
Citing Iran to Justify Yemen Slaughter
April 23, 2015  Consortium News
The indiscriminate and U.S.-backed Saudi bombing campaign over a largely defenseless Yemen has reportedly killed hundreds of civilians and devastated historic cities. To justify the slaughter, the mainstream U.S. media has trumpeted dubious allegations about Iranian influence, notes Gareth Porter.
+++
+++
A Fact-Resistant 'Group Think' on Syria
April 20, 2015  Consortium News
Exclusive: CBS News' anchor Scott Pelley is known for his clueless journalism which never goes beyond Official Washington's "group think" – and he was at it again in a dangerously provocative "60 Minutes" segment on the sarin gas attack near Damascus, Syria, in 2013, reports Robert Parry.
+++
GLENN GREENWALD: RELIGIOUS FANATICISM IS A HUGE FACTOR FOR AMERICANS' SUPPORT FOR ISRAEL
Greenwald: …there is no denying that religious extremism plays a very significant role in American attitudes toward Israel. Given its importance, this is a remarkably under-discussed phenomenon, mostly because American media figures are very comfortable maligning other countries as being driven by religious fanaticism while ignoring how much their own country is.
+++
+++
For those in the Twin Cities, please come on Saturday, April 25, to hear Diana Johnstone speak on this most important issue.
Using Smart Power to Drum Up War in Ukraine & The Middle East: Live from France with Diana Johnstone
Saturday, April 25 at 10:00am
Plymouth Congregational Church in Minneapolis in Minneapolis, Minnesota
Women Against Military Madness (WAMM) event
+++
Neocon 'Chaos Promotion' in the Mideast
By Ray McGovern  Published on Tuesday, April 14, 2015 by Common Dreams
Former Secretary of Defense Donald Rumsfeld and former Deputy Defense Secretary Paul Wolfowitz were key architects of the Iraq War debacle under President George W. Bush. (Photo: file)
Former Washington insider and four-star General Wesley Clark spilled the beans several years ago on how Paul Wolfowitz and his neoconservative co-conspirators implemented their sweeping plan to destabilize key Middle Eastern countries once it became clear that post-Soviet Russia "won't stop us."
+++
How to Deal with the Iranian Genii?
BY ERIC MARGOLIS   The UNZ Review   APRIL 11, 2015
The deal reached in Lausanne, Switzerland by Iran and five powers, led by the US, appears to be about nuclear capability.
In fact, the real issue was not nuclear weapons, which Iran does not now possess, but Iran's potential geopolitical power.
Progressives Warn Hawks: No War With Iran
Democrats who end up on 'wrong side' of Iran vote 'will have to answer for their decision for the rest of their careers.'
by Nadia Prupis, staff writer
Published on Thursday, April 09, 2015 by Common Dreams

+++Yemen Articles about Yemen from CommonDreams.org +++Obama's Fateful Indecisionby  Robert Parry
With Israel and Saudi Arabia siding with the Islamic State and Al-Qaeda versus Iran and its allies, President Obama faces a critical decision – whether to repudiate those old allies and cooperate with Iran or watch as Sunni terrorist groups possibly take control of a major country in the Mideast.
Published on Tuesday, April 07, 2015 by Consortium News
+++
Seven Steps of Highly Effective ManipulatorsWhite Helmets, Avaaz, Nicholas Kristof and Syria No Fly Zoneby Rick Sterling / DissidentVoice.org April 9th, 2015+++Palestinian leader, parliamentarian Khalida Jarrar arrested by Israeli occupation forces Picked up from Global Peace FB page.
In the early morning hours of Thursday, April 2, dozens of Israeli occupation soldiers raided the home of Palestinian parliamentarian Khalida Jarrar, a prominent leftist leader, feminist, and human rights advocate, arresting her, kicking down the door and holding her husband in a separate room. A leader in the Popular Front for the Liberation of Palestine, Jarrar defeated an Israeli occupation attempt in September 2014 to expel her from Ramallah to Jericho for six months.
Click Here To Take action: Demand the immediate release of Khalida Jarrar!
+++
Netanyahu's Spying Denials Contradicted by Secret NSA Documents
GLENN GREENWALD AND ANDREW FISHMAN The Intercept  03/25/2015
Israeli Prime Minister Benjamin Netanyahu yesterday vehemently denied a Wall Street Journalreport, leaked by the Obama White House, that Israel spied on U.S. negotiations with Iran and then fed the intelligence to Congressional Republicans. His office's denial was categorical and absolute, extending beyond this specific story to U.S.-targeted spying generally, claiming: "The state of Israel does not conduct espionage against the United States or Israel's other allies."
Foreign intervention in a local fight would be the worst course anyone could take.
By Adam Baron  Common Dreams  March 26, 2015
NYT Publishes Call to Bomb Iran
By Robert Parry  Consortium News  March 28, 2015
Exclusive: The New York Times continues its slide into becoming little more than a neocon propaganda sheet as it followed the Washington Post in publishing an op-ed advocating the unprovoked bombing of Iran, reports Robert Parry.
NETANYAHU'S SPYING DENIALS CONTRADICTED BY SECRET NSA DOCUMENTSBY GLENN GREENWALD AND ANDREW FISHMAN  The InterceptIsraeli Prime Minister Benjamin Netanyahu yesterday vehemently denied aWall Street Journal report, leaked by the Obama White House, that Israel spied on U.S. negotiations with Iran and then fed the intelligence to Congressional Republicans. His office's denial was categorical and absolute, extending beyond this specific story to U.S.-targeted spying generally, claiming: "The state of Israel does not conduct espionage against the United States or Israel's other allies."
Evergreene DigestDEFENSE INDUSTRY WHORES
We must guard against the acquisition of unwarranted influence, whether sought or unsought, by the military-industrial complex. –Dwight D. Eisenhower
Part 1: Young Turks' Cenk Uygur destroys the 'defense industry whores' pushing for war with Iran
Part 2: Companies Profiting The Most From War
Compiled by David Culver <evergreenedigest@earthlink.net>, Ed., Evergreene DigestPart 1: Young Turks' Cenk Uygur destroys the 'defense industry whores' pushing for war with IranScott Kaufman, Raw Story16 Mar 2015 | In a new video from The Young Turks, host Cenk Uygur lit into "defense industry whores" who will do anything they can to force the United States into a military engagement with Iran.Uygur began by berating former Democratic senator Evan Byah for collaborating with a group that produced "one of the worst fear-mongering ads that I've ever seen.""It's about our negotiations with Iran — and the point of those negotiations is that they don't get nukes, and they can verify, absolutely positively, that they will not have nukes," he continued. "This ad, of course, lies and says the exact opposite — that if we strike a peace deal with them and can verify that they don't have nukes, they will get nukes."Scott Kaufman is the proprietor of the AV Club's Internet Film School and an associate editor at the Raw Story. He taught at a university, but then thought better of it.Full story … Part 2: Companies Profiting The Most From War, Mark Lieberman & Thomas C. Frohlich, 24/7 Wall St. Despite the global drop (in world-wide military expenditure(s), weapons producers generated massive profits from arms sales, and U.S. and European companies continued to dominate the top 10 global companies in terms of arms deals.March 18, 2015 | Worldwide military expenditure shrunk in 2013 for the second consecutive year, falling by 1.9% to $1.75 trillion. The 100 largest arms-producers sold a combined $402 billion worth of arms and military services in 2013, also down — for the third consecutive year.However, not all countries are spending less. Military spending in North America and in Western and Central European countries has continued to decline, while other countries such as Brazil and Russia have increased their arms investments.Mark Lieberman & Thomas C. Frohlich are writers for 24/7 Wall St.Full story … 
Pentagon loses track of $500 million in weapons, equipment given to Yemen
By Craig Whitlock The Washington Post  March 17
The Pentagon is unable to account for more than $500 million in U.S. military aid given to Yemen, amid fears that the weaponry, aircraft and equipment is at risk of being seized by Iranian-backed rebels or al-Qaeda, according to U.S. officials.With Yemen in turmoil and its government splintering, the Defense Department has lost its ability to monitor the whereabouts of small arms, ammunition, night-vision goggles, patrol boats, vehicles and other supplies donated by the United States. T
UN Report Reveals How Israel is Coordinating with ISIS Militants Inside Syria
Posted on February 21, 2015  Info-wars.org  
The Syrian conflict continues to develop into a proxy war, pitting various foreign 'national interests' against one another, including US vs. Syria, US vs Iran, Saudi Arabia vs Syria, Qatar vs. Syria, Turkey vs. Kurdistan and Iran vs. Israel – to name only a few. So the support network behind Washington's 'Moderate Rebels' and terrorist groups fighting in Syria is …
+++
The Israeli guns that took part in the Rwanda genocide
A Tel Aviv court has rejected a petition to reveal documentation of arms exports to the Hutu government in the '90s.
By Uri Misgav   haaretz.com   Jan. 3, 2015
+++
The Uses, and Abuses, of History in the Middle East Conflict
by William Pfaff
The murder of Coptic Christians is one more instance of the sheer ignorance that's influencing events in the Middle East.
Posted on Feb 17, 2015 READ MORE
+++