Articles about the Media. Click the title to read the full article.
---
Recommended: Articles from FAIR (Fairness and Accuracy in Media) found in a RSS feed link in the right column of RiseUpTimes.org.
---
---
Media for the people!  Bringing you the best of the alternative media and original articles and videos.  Click here to help by learning more about Rise Up Times, spreading the word, and making a donation. 
---
 No Peace! No Justice! Please share this post.
The contents of Rise Up Times do not necessarily reflect the views of the editor.
+++
By Jake Johnson, Common Dreams. "This is why people won't come out and speak against the government," said James Schwab, a former ICE spokesman who quit after refusing to spread the Trump administration's lies. In a nationally televised incident that "should disturb every single person living in the United States," agents from the Department of Homeland Security (DHS) Inspector General's Office on Wednesday interrupted an interview with former ICE spokesperson James Schwab, who resigned from his position in March… -more-
Popular Resistance  July 1, 2018
By Fight for the Future. SB 822 passed in large part due to mass mobilization by California residents in support of net neutrality. The bill heads next to the State Assembly, where it will likely get a vote early this Fall. -More than 53,000 California residents sent letters to the Senate Energy committee calling on them to advance SB 822 -Nearly 200 small businesses in California have signed on to open letters here and here. -Dozens of public interest groups like Fight for the Future, Color of Change, Greenpeace, Consumers Union, Disability Rights Education & Defense Fund, CREDO, and… -more-
Popular Resistance  Fight for the Future  June 1, 2018
(CD) — As President Donald Trump continues to wage war on journalism with "violent anti-press rhetoric," the Committee to Protect Journalists (CPJ) published a scathing analysis 

on Tuesday

 arguing that the Democratic National Committee's recent lawsuit against WikiLeaks could set the stage for even more alarming attacks on press freedom by empowering the U.S. government to penalize media outlets […]
By Jake Johnson  The AntiMedia  May 30, 2018
US State Passes Law Defining Any Criticism of Israel as 'Anti-Semitic' Just As They Kill 60 Civilians
As many Americans criticize the number of civilian deaths on the Gaza Strip, a state has passed a measure labeling criticism of Israel as "anti-Semitism."
The news that Israel killed more than 60 Palestinians on Monday alone, has sparked criticism from Americans who are frustrated with the United States' failure to hold one of its closest allies accountable for the human rights violations it is committing—and individuals in one state will soon be labeled as "anti-Semitic" for openly voicing their opinion.
South Carolina will become the first state to legally define criticism of Israel as "anti-Semitism" when a new measure goes into effect on July 1, targeting public schools and universities. While politicians have tried to pass the measure as a standalone law for two years, they finally succeeded temporarily by passing it as a "proviso" that was slipped into the 2018-2019 budget.
HOMELAND SECURITY COMPILING DATABASE OF JOURNALISTS AND 'MEDIA INFLUENCERS'
Abby Martin's episode highlighting Israeli military violence against Palestinians has been blocked by YouTube in 28 countries for supposedly violating "local laws," the presenter has announced. According to The Empire Files' official Twitter account, YouTube sent the program a notice saying "We have received a legal complaint regarding your video," and notifying that the video would be blocked in 28 countries, including the United Kingdom, France, Israel and Italy. The blocked episode featured an interview with journalist Max Blumenthal about…  -more-
By TeleSur. TeleSUR presenter Abby Martin  Popular Resistance
When people were given a toolbox of deceptive techniques and told to "play Russian troll," they learned to reject disinformation.
Using MEK images to represent unrest in Iran is like a Chinese outlet using images of a Westboro Baptist Church protest in a story about Occupy Wall Street, because both oppose the US government.
 BY ADAM JOHNSON  FAIR  January 10, 2018
Facebook's previous efforts at soft censorship failed when it found that people shared articles flagged as 'fake 
news

' even more.
Mint Press News  January 12, 2018
Conservative activist James O'Keefe released a new video revealing Twitter's use of "shadow banning" and algorithms used to censor certain ideas demonstrating the social media giant's propensity towards censorship.
Mint Press News  January 11, 2018
The US Army is pursuing a new intelligence tool which is able to understand social media posts in languages including Russian, Arabic and French, and which can post answers on its own.
Mint Press News  January 12, 2018
I first understood the power of the documentary during the editing of my first film, The Quiet Mutiny. In the commentary, I make reference to a chicken, which my crew and I encountered while on patrol with American soldiers in Vietnam.
"It must be a Vietcong chicken – a communist chicken," said the sergeant. He wrote in his report: "enemy sighted".
The chicken moment seemed to underline the farce of the war – so I included it in the film. That may have been unwise. The regulator of commercial television in Britain – then the Independent Television Authority or ITA – had demanded to see my script. What was my source for the political affiliation of the chicken? I was asked. Was it really a communist chicken, or could it have been a pro-American chicken?
Of course, this nonsense had a serious purpose; when The Quiet Mutiny was broadcast by ITV in 1970, the US ambassador to Britain, Walter Annenberg, a personal friend of President Richard Nixon, complained to the ITA. He complained not about the chicken but about the whole film. "I intend to inform the White House," the ambassador wrote. Gosh.
The Quiet Mutiny had revealed that the US army in Vietnam was tearing itself apart. There was open rebellion:  drafted men were refusing orders and shooting their officers in the back or "fragging" them with grenades as they slept.
None of this had been news. What it meant was that the war was lost; and the messenger was not appreciated.
The Director-General of the ITA was Sir Robert Fraser. He summoned Denis Foreman, then Director of Programmes at Granada TV, and went into a state of apoplexy. Spraying expletives, Sir Robert described me as a "dangerous subversive".
By John Pilger  JohnPilger.com  December 11,  2017
The following about the media and its role in Israel is excerpted from the full article here:
There's a very good reason why such videos never see the light of day: The IDF Spokesman is a central arm of the hasbara effort, and its people know very well that a video showing a teen being dragged out her parents' home and led away handcuffed by gunmen would be taken badly pretty much everywhere in the world.

This time the need to calm down the Jewish public made the IDF throw the hasbara effort under the bus.

Perhaps I should amend the last claim. The hasbara effort, despite pretending otherwise, is directed at Israelis and Jews living outside of Israel. It barely tries to reach other crowds. It is intended to convince the already-convinced that everything is fine, that they can keep sleeping peacefully without thinking of what they're sending their children to do. Hence the mass hysteria surrounding Breaking the Silence: Acting as a Socratic fly, they insist on waking a sleeping public. The public does not want to know. The IDF will show that it can– with a mighty hand and outstretched arm– detain a teen. But if you point out there are thousands of detainees like her, and that this is actually regular activity, you'd be branded a traitor.

Anyone needing more proof that the hasbara campaign is a government-operated psy-ops against the Israeli public which funds it could get it in the new series of articles by media criticism site 7th Eye. Two days ago, it exposed the fact that the Strategic Affairs Office transferred hundreds of thousands of shekels to the largest Israeli daily, Yediot Ahronot, so that the paper would promote so-called independent reports, which were actually government propaganda. Yesterday it showed that the Minister of Strategic Affairs Gilad Ardan gave the television network Keshet some half a million shekels to promote hasbara content – again, masquerading as legitimate reporting.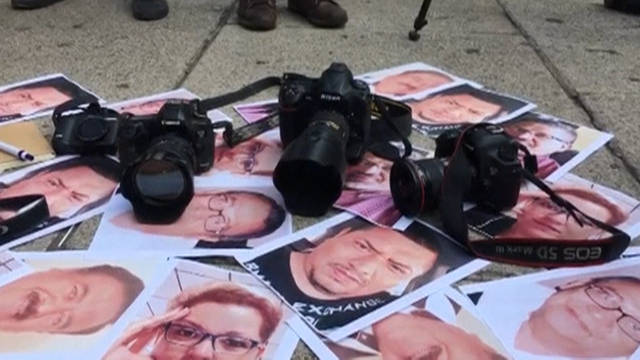 – Eric Schmidt, the executive chairman of Google's parent company, Alphabet, confirmed this weekend that the world's largest Internet company is, in close coordination with the state, manipulating search results to censor sites critical of the US government. Responding to a question about the "manipulation of information" on the Internet during an appearance at the Halifax International Security Forum, Schmidt announced that Google is working on algorithms that will "de-rank" Russian-based news websites RT and Sputnik from its Google News services, effectively blocking users' access to either site. Schmidt's remarks at the gathering of military and national security officials confirm the World Socialist Web Site's charges that Google has been deliberately altering its search algorithms and taking other steps to prevent people from accessing certain information and specific websites through its search engines. The WSWS has itself been a principal target of these efforts. The statements expose as lies the company's previous claim that changes to its search engine were aimed at "improving search results" and that these changes were politically unbiased. Google's efforts are just one part of a much wider government-corporate drive to assert control over the flow of information over the Internet, involving Amazon, Twitter and Facebook, as well as Internet service providers such as Comcast, Time Warner Cable, Verizon and AT&T. -more-
By Niles Niemuth for WSWS  Popular Resistance  November 25, 2017
 — Federal Communications Commission Chairman Ajit Pai plans a full repeal of Net Neutrality protections, exposing internet users to blocking, throttling and paid prioritization of online content by the handful of internet service providers that control access in the United States. Pai will release his proposed rule changes 

on Wednesday

. According to reports, the chairman will seek to overturn nearly all of the Net Neutrality safeguards put in place during the Obama administration. In 2015, the FCC grounded its Open Internet Order in Title II of the Communications Act, a move that follows the laws Congress wrote and that federal appeals courts have twice upheld. Pai is planning to eliminate the "bright line rules," which prohibit blocking, throttling and paid prioritization. His proposal would also take away the general conduct rules and other protections against cable- and phone-company discrimination. Under the current rules, ISPs ca n't "unreasonably interfere with or unreasonably disadvantage" people's ability to access and use the lawful content, applications, services or devices of their choosing. This broader mandate to prevent unreasonable ISP discrimination, even when it doesn't fall neatly under a bright-line prohibition, is crucial to preventing interference with internet traffic at interconnection points and other "upstream" bottlenecks that ISPs can abuse. Even worse, Pai plans to remove Title II classification of broadband internet access service providers. -more-
By Timothy Karr for Free Press – WASHINGTON  Popular Resistance  November 23, 2017
Ajit Pai's plan is expected to contain a "total repeal" of net neutrality protections, posing a grave threat to the future of freedom of expression, access to information, and small businesses particularly for communities of color and low income communities. The 

December 7

 protests represent growing grassroots backlash to the FCC's plan, which polls show is wildly unpopular with people from across the political spectrum. The events are supported by Team Internet, a grassroots network of nearly half a million volunteer activists spearheaded by Demand Progress, Fight for the Future, and Free Press Action Fund, three of the groups behind the massive 

July 12

 net neutrality day of action that drove millions of comments, emails, and phone calls to the FCC and Congress. Over recent months the groups behind the protests have organized thousands of constituents to attend more than 600 town halls and meetings with lawmakers to demand their suppo rt for net neutrality. A phone call campaign through BattleForTheNet.com has generated nearly 250,000 phone calls to legislators offices. At the protests participants will be encouraged to take a group photo and tweet it at their local members of Congress. Where possible, protesters will march to a nearby lawmaker's office and deliver petition signatures. Protests are currently planned in Phoenix, Denver, San Francisco, New York City, Indianapolis, Miami, Boston, Seattle, and several other cities across the country. -more-
By Evan Greer for Fight for the Future  Popular Resistance  November 23, 2017
Meet the Proud Boys, America's Self-Proclaimed Chauvinists
The segment—part of Left Field, NBC's video documentary vertical—is a gratuitous piece of embedded journalism that does little to challenge the claims made by Proud Boy talking heads, such as "there's a mainstream societal attack on being hetero cis white men." The piece allowed multiple Proud Boys to spout off their brand of racist and sexist talking points with zero context; arguments that Muslims are uniquely sinister and women should go back to being housewives were advanced with no pushback from other sources or NBC itself.
Adam Johnson  FAIR  November 9, 2017
Watch and listen to Liesl Bradner's accompanying photo essay of the "La Raza" exhibit.
On Aug. 29, 1970, La Raza, a little-known bilingual Los Angeles newspaper-turned-magazine became an influential part of the Chicano rights movement. While covering a massive anti-Vietnam War rally in East Los Angeles, 
Raul Ruiz

, the La Raza editor in chief, captured the moment a Los Angeles County sheriff's deputy fired a Flite-Rite tear gas missile into the Silver Dollar Café. Ruben Salazar, a former Los Angeles Times columnist and a leading Latino voice of the 20th century, had just entered the crowded bar to quench his thirst after covering the protest. Minutes later, he was dead.
The black-and-white photo taken from the sidewalk that hot August day is considered one of the most well-known and contentious images representing the plight of the Chicano movement (El Movimiento) during the civil rights era.
Our past is relevant to issues we're confronting today such as immigration, education, migrant farm workers, equal pay and DACA," said former La Raza photographer and exhibition co-curator Luis C. Garza.
By Liesl Bradner  Truthdig  November 7, 2017
Wednesday's

 hearings by the House and Senate Intelligence committees on "extremist" political views served as the occasion for members of Congress to urge technology companies to flagrantly violate the US Constitution by censoring political speech, carrying out mass surveillance, and muzzling journalists in pursuit of the government's geopolitical aims.
The hearings revolved around allegations, promoted ceaselessly in recent months by the intelligence agencies, leading figures within the Democratic Party, and newspapers such as the New York Times, that social opposition to the political establishment results from "fake news" promoted by Russia. As Democratic Congressman Adam Schiff put it, "Russia" promoted "discord in the US by inflaming passions on a range of divisive issues" and sought to "mobilize real Americans to sign online petitions and join rallies and protests." The basic problem, however, as Schiff put it, is "not just fo reign." The algorithms used by Facebook and Twitter have the "consequence of widening divisions among our society." Schiff complained: "What ends up percolating to the top of our feeds tends to be things we were looking for," as opposed to US government propaganda disseminated by the establishment media, which he referred to as "true information." -more-
By Andre Damon for WSWS – Popular Resistance  November 5, 2017
If this document had been published sooner, it could have dramatically changed the course of the war by exposing the true face of the "moderate rebels" — and potentially saved tens of thousands of lives. That didn't happen, and no reason has been given by the Intercept for its delay.
(ANTIMEDIA Op-ed)  — The mainstream media went batshit Thursday night when it was reported that a rogue Twitter employee on his or her last day on the job shut down the 
Donald Trump

's personal account for 11 minutes.
The fact that the well-established though unofficial mouthpiece of the president of the United States was taken from him, albeit temporarily, gave journalists and analysts myriad options to choose from when commenting on the story.
Popular topics ranged from Twitter's internal security — as in how this happened in the first place — to First Amendment issues pointing out that the company has blocked other accounts over content violations while letting The Donald run wild. Some takes highlighted that some were cheering the unknown employee as a hero.
IN BITING SPEECH
FLAKE DENOUNCES
'RECKLESS' TRUMP

— New York Times headline, October 25, 2017
lake" refers here to first-term senator 
Jeff Flake

, Republican of Arizona, whose classic pseudo-eventon October 24 was a seventeen-minute Senate floor speech to announce that he would not run for re-election, all gussied up with at least implied imprecations against a president and administration he could not bring himself to call by name. In seventeen minutes, Flake managed to find fault with nothing more specific in the world today than "our disunion … the indecency of our discourse … the coarseness of our leadership … the compromise of our moral authority."
Tasty bait there, for anyone who wants to see what anyone wants to see. The Times was not alone in taking the bait as a "biting speech." Others called it a "bombshell Senate speech" (USA Today), "most important speech of 2017" (CNN), "an indictment of Trump supporters" (Washington Post), "astounding speech" (Daily Beast), "powerful indictment of Trump" (Frank Rich), "a blistering speech" (Democracy NOW!), "cowardly attack on Trump" (Breitbart), "a fiery sermon decrying Trump personally" (Daily Wire), and so on across the political spectrum, with a few exceptions like Rolling Stone explaining why the "speech was meaningless."
Flake himself gave the game away early, for anyone paying close attention. Flake's third paragraph begins with a classic deceit: that everyone is at fault — suggesting that no one is at fault — which is a construction that manages to tell two lies at once:
Regret for the compromise of our moral authority, and by our, I mean all of our complicity in this alarming and dangerous state of affairs. It is time for our complicity and our accommodation of the unacceptable to end.
This is vacuity posing as seriousness.
By William Boardman Reader Supported News  October 29, 2017
Americans may not like the media, but polls are indicating that they trust it more and more — especially compared with President 
Donald Trump

.
A Reuters/Ipsos poll out earlier this week was the latest to tap into the trend. Of the 14,300 people surveyed, 48 percent expressed a "great deal of" or "some" confidence in the press — a figure that was up from 39 percent in November 2016. People with "hardly any" confidence in the media dropped from 51 percent to 45 percent.
 By JASON SCHWARTZ  Politico  October 5, 2017
The prominent and sympathetic coverage for Antifa from the Times, the Post and NBC is politically sinister. The Times has a policy of excluding any genuinely left-wing opinion, while "Meet the Press," the most widely-watched Sunday news program, never interviews or features in its panel discussions anyone outside what is considered acceptable by the political establishment.
Colbert brought on Spicer, complete with the rolling press office podium that Melissa McCarthy made famous in her Saturday Night Live impression, to mock President 
Donald Trump

. From the New York Times transcript:
SPICER: This will be the largest audience to witness an Emmys, period. Both in person and around the world.
COLBERT: Wow, that really soothes my fragile ego. I can understand why you would want one of these guys around.
Yet for all the outrage over the appearance, and for all the distaste over Spicer's relatively quick public rehabilitation (Spicer left the White House less than three weeks ago, on August 31), the fact is that it's par for the course in how the corporate media—both in news and entertainment—treat those in power when they leave Washington.
EOIN HIGGINS  FAIR  September 20, 2017
Everyone knows the news outlet serves as a virtual propaganda tool, but new research shows just how effective they are at it
According to those same sources, six reporters will be given seats on Mattis' plane on an upcoming trip to India and the region, including a reporter with the French wire service Agence France-Presse, a reporter for the Wall Street Journal, a three-person television pool and one radio pool reporter.
The plane has room for up to 18 reporters, although normally about a dozen travel on overseas trips, the sources said.
Bureau chiefs for the AP and Reuters will discuss the issue with chief Pentagon spokesperson Dana White to get an explanation as to why reporters for those wire services will not be allowed to travel, the sources said.
By Kelsey Sutton  MIC  September 7, 2017
Everyone knows the news outlet serves as a virtual propaganda tool, but new research shows just how effective they are at it
–Claims that Russian identity is based on "projection of power."
In reality, "projection of power" characterizes 
the

 U.S. much more than Russia. For 

the

 past two centuries 

the

 United States has expanded across 

the

 continent and globe. 

The

 last century is documented in 

the

 book Overthrow: American's Century of Regime Change from Hawaii to Iraq.
The

 U.S. currently has nearly 800 foreign military bases in over 70 countries. In contrast, Russia has military bases in only two countries beyond 

the

 former Soviet Union: Syria and Vietnam.
–Ignores crucial information about events in Ukraine.
Russian involvement in eastern Ukraine and Crimea are presented as examples of "projection of power." But basic facts are omitted from 
the

 documentary. There is no mention of 

the 

violent February 2014 coup in Kiev nor 

the

 involvement of neoconservatives such as Sen. John McCain and U.S. Assistant Secretary of State Victoria Nuland in supporting and encouraging 

the

 overthrow of Ukraine's elected government. In a December 2013 speech, Nuland outlined her intense involvement in Ukraine including U.S. insistence that Ukraine choose a "European future" since 

the

 U.S. had "invested $5 billion to assist." -more-
By Rick Sterling for Consortium News Popular Resistance  July 30, 2017
ON VIOLENT AND NONVIOLENT ACTIVISM, THE MEDIA, PHILANDO, AND THE G20
This is not to say that these protests should become violent to attract media attention. The deficit is rather on the other side. The mainstream corporate media should be covering these many nonviolent protests where people risk arrest and often go to jail for their actions.
International coverage entirely ignores 

Sunday's

demonstration of support for a Constituent Assembly. Did you hear the one about a practice election in Venezuela, where millions of people lined up from early morning until late at night, just to cast their vote in a dry run poll that meant absolutely nothing at all? Except to express support for another election 

in two weeks

 time? Actually, it's not a joke. It did happen. 

On Sunday

. Video shows them singing and dancing as they waited to test voting machines and see how the election of a new Constituent Assembly on 

July 30

 will work. But you probably never heard about it. Because the world's media, pretty much without exception, concentrated almost exclusively on the other vote happening in Venezuela 

on Sunday

, an informal plebiscite held by the opposition, with no constitutional status, to oppose that Constituent Assembly. So let's just look at the quality media. The New York Times for example — you remember: "All the news that's fit to print." Well, maybe not ALL of it … -more-
By Staff of Tele Sur  Popular Resistance  July 19, 2017
By Adam Johnson for FAIR. Major media's relative lack of interest in the mass arrests by Metro DC police on Inauguration Day is a fact noted by activists and journalists since the incident almost six months ago. One way to measure the dearth of coverage is to compare the attention paid to comparable protester arrests in Russia last month. On 

June 12

, over 1,700 Russians throughout the country were arrested for "unauthorized protests" in opposition to President Vladimir Putin and government corruption. "Dozens"—including opposition leader Alexei Navalny—were kept in jail longer than a day, but the vast majority were let go immediately. (Navalny, as well as some others, got between 15–30 days in jail.) More than 200 Americans were arrested on 

January 20

 after "rioting" broke out in downtown Washington, DC, in the hours leading up to and after President Donald Trump's inauguration. -more-
By Adam Johnson for FAIR.  Popular Resistance  July 17, 2017
Photo by Oli Scarff

By Chris Mills for BGR – At the heart of the matter are new fees that Comcast recently introduced, described as a "broadcast TV fee." It's a fee that even Comcast admits goes to paying content providers for cable channels, which is exactly what your cable bundle is supposed to be paying for already. It's a problem because, as the regional regulators outlined in a letter, fees are supposed to be used for things outside the core contract, like government taxes or equipment rental fees. Instead, Comcast (and other cable companies) are breaking up the costs of providing a service and hiding some of them under the fold of the bill. It makes it difficult for consumers to sign up for a service and actually know how much they'll be paying per month; worse, the fees can change arbitrarily throughout the course of a contract, with zero recourse for the customer. So what does this have to do with net neutrality? Well, the abuse of fees is a classic case of a couple powerful companies with near-monopolies abusing their power at the expense of consumers. The FCC has a "voluntary" program that says that ISPs aren't meant to do this kind of thing, but it lacks enforcement power to really crack down on it. -more-
Popular Resistance  May 5, 2017
By Nilay Patel for The Verge – The fight over net neutrality is starting to heat up — and the big difference between this time and 2015 is that big ISPs seem incredibly emboldened to say whatever they want without any regard for the truth. For example: here's some sponcon from Verizon, where someone named Jeremy "interviews" Verizon general counsel Craig Silliman about what the FCC is up to and the resultant backlash, and Silliman says a bunch of things that are just flatly not true. How not true? He casually ignores the fact that Verizon sued the FCC to kill net neutrality in the past; losing that case is why the agency had to use the stronger Title II approach in the first place. (I'm not the only one to notice this; Motherboard pointed it out earlier.) Anyway, I've lined up almost everything Silliman says in this video against that simple fact. It is astounding. Enjoy. -more-
Popular Resistance  May 5, 2017
By Ali Breland for The Hill – Sen. Brian Schatz (D-Hawaii)

on Tuesday

said the way that Federal Communications Chairman Ajit Pai introduced his plan to roll back net neutrality may have skirted the law. "He sounded more like a political person taking a political position than someone who was going to really inquiry into the best path forward," Schatz told reporters. "I think it is legally consequential." The Hawaii senator, who is the ranking member of the subcommittee on communications and technology, said the FCC chairman may have violated a "Notice of Proposed Rulemaking" (NPRM) statute by appearing to take a clear position on a proposal that hasn't even been considered. The statute states that the FCC must first consider public comment before taking a specific position on a policy. "They are supposed to receive public comment. They are supposed to establish a public record," Schatz said. "You would never have anybody in judiciary announcing their position, decla ring that they will 'win in the end,' that 'this is a fight and they intend to win it.' "When Pai introduced his proposal to significantly scale back on Obama-era net neutrality rules, he closed his speech by saying, "Make no mistake about it: this is a fight that we intend to wage and it is a fight that we are going to win." -more-
Popular Resistance  May 5, 2017
In short, the mainstream media have engaged in the "normalization" and distortion of truth while enabling the simultaneous suppression of dissent; they've "legitimized the kind of political and moral cowardice that undermines informed resistance," writes Giroux.
By RA Monaco  Truthout   Speakout | Op-Ed  March 02, 2017
A "made-for-Facebook creative strategy was an essential component" to Pennsylvania GOP Sen.
Pat Toomey

's re-election, the company says.
By Staff of Society of Environmental Journalists – Dear Chairman LaFleur and Commissioner Honorable: As a professional news media organization, we are writing to express our concern about the procedures your agency uses to gather public comment. The Society of Environmental Journalists is a 26-year-old professional organization dedicated to excellence in environmental journalism. Many of our 1,274 members are journalists who cover FERC actions, whether locally or nationally. It's critical to our members' reporting on FERC actions to explain factors you weigh in your decision making and the public feedback you receive. At a February 14 public comment meeting in Wilson, N.C., on the Draft Environmental Impact Statement for the Atlantic Coast Pipeline (Docket Nos. CP15-554-000 and CP15-554-001), we understand that rather than following the traditional "town hall" procedure, where people who wished to comment could speak in front of others in attendance, FERC switched to what its spokesperson later described as a "listening session." -more-
Popular Resistance  March 1, 2017
ROBERT PARRY | NYT'S FAKE NEWS ABOUT FAKE NEWS
Exclusive: The West's anti-Russian propaganda links Moscow to the blight of "fake news" but the evidence doesn't connect the two. So, The New York Times makes the case with its own "fake news," reports Robert Parry.
…there is something chilling in Zuckerberg's failure to recognise that Facebook is already a for-profit form of social infrastructure, with immense and unprecedented power over our lives. And in making its profit, Facebook creates social value, yes, but also social harm.
 By Dennis J. Kucinich  Ron Paul Institute  February 1, 2017
Google Permanently Bans 200 'Fake News' Sites*
GLENN GREENWALD | WATCH HOW CASUALLY FALSE CLAIMS ARE PUBLISHED: NEW YORK TIMES AND NICHOLAS LEMANN EDITION
Snowden…it is legitimate for NSA to engage in targeted surveillance (i.e., monitoring specific individuals whom a court, based on evidence, concludes are legitimate targets) but inherently illegitimate to engage in suspicion-less mass surveillance (i.e., subjecting entire populations to monitoring).   
An open letter to the American media from journalists inside it and out
UPDATE: Just as The Guardian had to do just two days ago regarding its claim about WikiLeaks and Putin, the Washington Post has now added an editor's note to its story acknowledging that its key claim was false:
Is it not very clear that journalistic standards are being casually dispensed with when the subject is Russia?
Glenn Greenwald The Intercept  December 31 2016
Trump's Attack on the Freedom of the Press (Video)
Historically, tyrants have tried to control the press using 4 techniques that, worryingly,
Donald Trump

is already using.

President Obama signed into law the 2017 NDAA and its Orwellian countering foreign propaganda provisions — all but making censorship official policy.
True Activist  December 24, 2016
RT  December 16, 2016
An example of how conservative media use propaganda to deceive.
Respondents' correct understanding of the popular vote depended a great deal on partisanship. A large fraction of Republicans — 52 percent — said Trump won the popular vote, compared with only 7 percent of Democrats and 24 percent of independents. Among Republicans without any college education, the share was even larger: 60 percent, compared with 37 percent of Republicans with a college degree.
By Eric Oliver and Thomas Wood Washington Post  December 18, 2016
In a recent article in the British 'Independent', Fisk reflects on the siege, uprising and atrocious Nazi massacres in Warsaw, Poland in 1944. The terribly high cost of that war leads him to reject the French assertion that the current siege in Aleppo is the 'worst massacre since World War Two.'
"Why do we not see the defending fighters, as we do on the Warsaw films? Why are we not told about their political allegiance, as we most assuredly are on the Warsaw footage? Why do we not see 'rebel' military hardware – as well as civilian targets – being hit by artillery and air attack as we do on the Polish newsreels?," he asks, further demonstrating what he perceives to be the flaw of such a comparison.
Not that Fisk doubts that pictures of the dead and wounded children in eastern Aleppo are real; his argument is largely against the one-sidedness of the coverage, of demonizing one party, while sparing another.
Ramzy Baroud  Counterpunch  December 15, 2016
A video.