The Guardian thinks it's vital to explore the many facets of the growing opposition to the Trump administration. As we do so, we want to hear from you.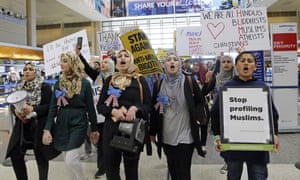 Demonstrators opposed to Donald Trump's travel ban march at the Los Angeles international airport. Photograph: Reed Saxon/AP   
From the women's marches, to airport protests, to attending local town hall meetings, people across the country have been seeking out ways to curb what they see as the damaging actions of an unpredictable president.
That's why the Guardian is launching a new project that will aim to cover this diverse range of new activism.
We'll be publishing daily stories on
theguardian.com
on a range of areas where critics of the administration feel there are threats – such as climate change, reproductive rights, equality, immigration and racial justice.
We'll feature the kind of community activism from around the country which can often get missed: meetings, town halls and innovative protests. There will be profiles of key progressive leaders, and tips for those who want to organize.
As we prepare, we want to hear from you.
What other information do you want us to provide? Are there specific types of issues you think we should cover, or certain areas of the country?
Editor's Note: Below are the questions in a form to fill out and send to The Guardian. In order

to actually fill out and submit the form

, you will need to go to the original Guardian article here.
What aspects of the resistance are most interesting to you?
Protests and demonstration.  Information on different groups in the movement.  Profiles of resistance leaders.  Expert opinion.  Big national and international events.  Smaller, local protests that I might not know about.  Other.
How would you like to consume information about the resistance?
Pictures  Video  Short text summaries  In-depth coverage  All of the above
How much would you like to know about what's going on in the resistance?
Tell me everything there is to know.  Tell me enough so I can discuss it with my friends and family.  I'm overwhelmed already – I just want the big picture.
In your own words, what is the resistance?
If we delivered all this to your inbox, how often would you like to receive it?
Daily  3 times a week  Weekly  I don't want any emails, thanks
Sign me up for emails [from the Guardian]
*
---
To learn more about Rise Up Times and support
Media for the People! with a donation click here.
---
No Peace! No Justice!  Please share this post.